a bit of Cincinnati Muzik
This past weekend, I was carried to Ohio on a swarm of bees. Just kidding, I flew there on a Delta plane. Chris and I went to Cincinnati — a city I am only just beginning to learn to type correctly in one try, despite being with a Cinci man for eight years now — for a family visit and general Midwestern check-in. We also checked out Oktoberfest, and caught a sliver of Homecoming Festival, a musical event put on by "Cincinnati's favorite sons" The National.
The last time I was in Cincinnati, autumn 2022, I was able to enjoy a few signature snacks of the city: Graeter's ice cream, which is really good ice cream (and as "Burlington, Vermont's favorite daughter," I think I know a thing or two about ice cream); and Skyline Chili, a pungently spiced meat sauce best enjoyed on hot dogs or a tender bed of spaghetti. This time around, the snack conduit was provided by Oktoberfest Zinzinnati, billed as the largest Oktoberfest celebration in the U.S. and second largest in the world behind Munich's. Streams of people dressed in lederhosen and Bengals gear prowled around downtown, toting plastic steins of beer. Because we had just missed the Running of the Wieners, there were dachshunds trotting along at ground level, or otherwise getting carried around in their owners' arms, their little legs exhausted. Kiosks proffered potato pancakes, schnitzel, every possible category of wurst. I purchased a soft pretzel with beer cheese. I love soft pretzels so much, they are in my Top Thirty of foods, and yet even having lived for a long time in New York City — a metropolis lousy with street pretzels — I haven't had a good one in years. It's fucked up what they let happen to NYC street pretzels. So stale :( Anyway, this one was good as hell.
And there was music at this festival. I am not just foodblogging here. The music was awesome. There was a woman named Kyla Mainous who played acoustic guitar and sang; she took requests and had a songbook of over 800 options. We heard her play beautiful versions of "What About Us" by Pink and "Halo" by Beyoncé. There was a Bavarian-style oompah band comprised of men who all looked over 50, if not 60, and they announced they were going to be playing for three hours. There was a classic 'bar rock' cover band called, I believe, What She Said, who were playing on a stage sponsored by the nicotine pouch company ZYN, and they absolutely ripped. Their cover of "...Baby One More Time" had this octave-slide bass moment that was sensational.
And then we ambled over to the Jägermeister Tent to enjoy some hip hop. Two guys were onstage trading off verses, one in an iridescent luchador mask, the other wearing what I can only describe as an "anatomically correct" Goofy hat (it had floppy ears). This was the highlight of my day, because as the Goofy hat man introduced himself as Devin Burgess, a light went on in my pretzel-enhanced brain. Devin Burgess...I had heard this name before. Then I realized someone I interviewed for my newsletter The Molly Zone, the Denver-based music producer and DJ known as NO-FVCE, had name-checked Devin Burgess as a reliably excellent collaborator: "He's crazy, he'll send you a verse back the next day and it's crispy." And here Devin Burgess was, in the flesh, at fucking Oktoberfest Zinzinnati! He and the mask-wearing Isai Morales were excellent, rapping over chilled soul-sampling beats and providing a cool oasis from the increasingly intense and sausage-scented scene on 5th Street.
The next day, we hit Homecoming Fest for Pavement and The National, the last two acts of the two-day, single-stage festival, which was located on the Ohio River riverfront. The sun-blasted scene was ripe for people over the age of 30 to enjoy the music of bands whose members are in their 40s and 50s.
(I apologize if people under 30 were also there. Sometimes blogging requires a little bit of overgeneralization...I mean you no harm.)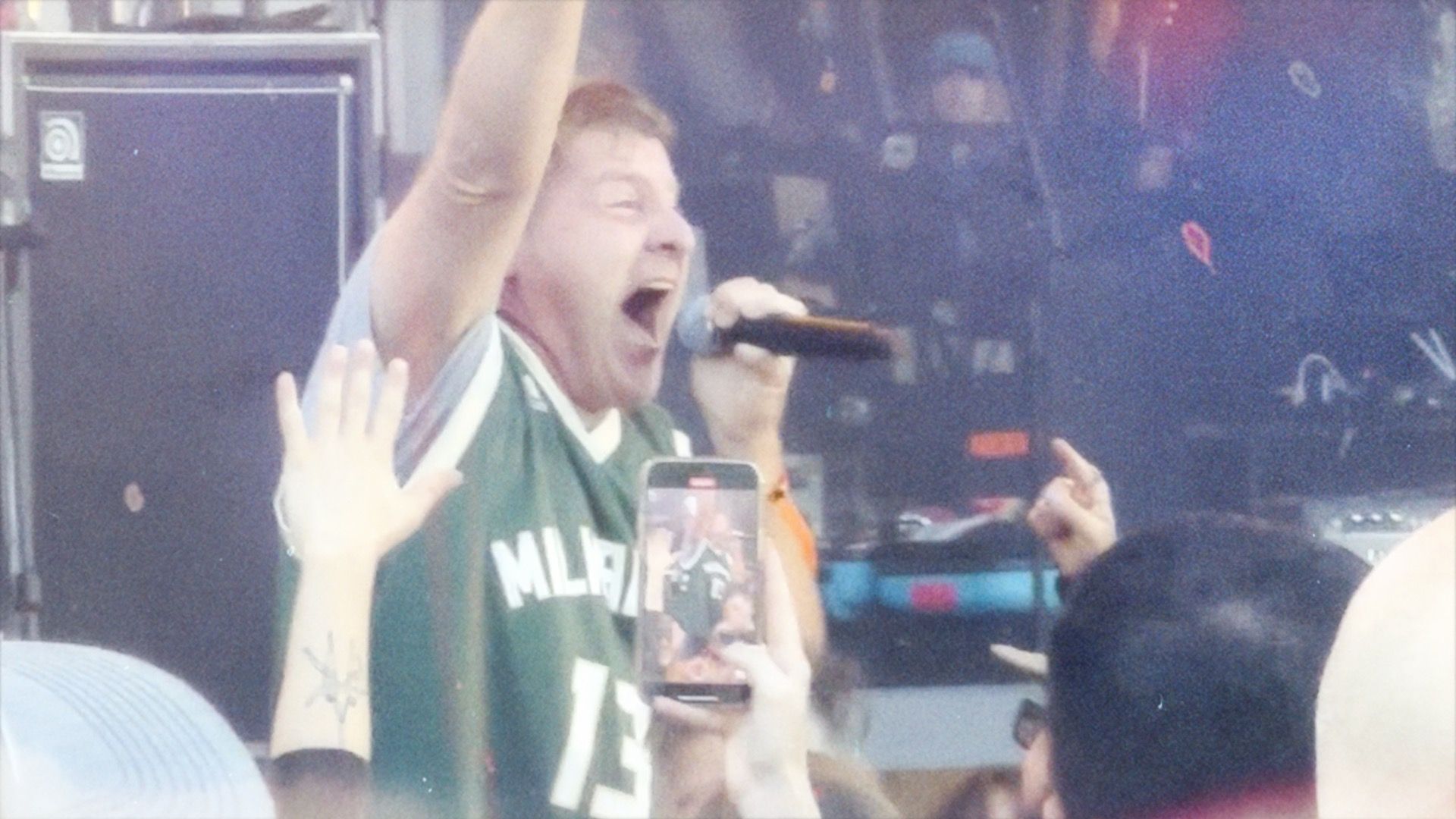 Pavement, Pavement, Pavement. One of the bands that I always felt I should like, but never really got into. I think the first time I ever read about Pavement, other than reverent mentions of Slanted and Disenchanted in my precious early '00s issues of Spin was in Rob Sheffield's first book Love is a Mix Tape, when he describes Pavement coming to Charlottesville, Virginia in 1991:
...Pavement was nothing at all like we pictured them. They were a bunch of foxy dudes, and they were into it. As soon as they hit the stage, you could hear all the girls in the crowd ovulate in unison...They did not stare at the floor. They were there to make some noise and have some fun. They had fuzz and feedback and unironically beautiful sha-la-la melodies...the songs were all either fast or sad, because all songs should be either fast or sad. Some of the fast ones were sad, too.
I think that nails what happened to me with Pavement. On record, they never emoted quite enough for my soft-ass heart to fully connect. Something about their archness held me at arm's length. Live, they made so much more sense. Their insouciance felt more earnest, somehow, even while Stephen Malkmus made playing the guitar behind his head look as inadvertent as a yawn. Bob Nastanovich was the real star for me. I could watch that man holler all day. He howled jubilantly through "Unfair," my favorite song of their set.
It's odd to think that my first Pavement show might be their last for a long while. The last time they reunited was in 2010, and if they get back together in another thirteen years, Malkmus will be 70, which is wild. The presence of so many classic Pavement songs — "Cut Your Hair," "Range Life," "Summer Babe," "Shady Lane" — certainly suggested a fitting-it-all-in-before-a-long-break mindset. It is times like this when I cannot question my luck in getting to catch such an important band at the precipice of a hiatus. I simply must enjoy it, and engage in maximum gratitude.
And ah, The National. My first time seeing them live as well. I have been a casual fan since college, when I played "Karen" on my iPod touch with a frequency that would have worn out a cassette tape, but I haven't listened to much of their more recent records, which appear to be getting "mixed reviews." Regardless as soon as they took the stage and kicked off "I Should Live In Salt," I felt that particular zing of seeing a band in great shape playing to a very large crowd of deeply and profoundly adoring fans, and knew it was going to be a great set.
I was trying to figure out the right way to describe Matt Berninger's stage presence and landed on: "What if you had a super elegant and reserved English professor, and they were remote and imperious all semester and then on the last day of class, they broke into the saddest song you've ever heard, in a baritone richer than a flourless chocolate cake?" And I know a lot gets made of the skills of The National's drummer Bryan Devendorf. I will make just a little more of them now. Holy good god damn, the drumming was NUTS. The fills sounded like automatic weaponry. "Don't Swallow the Cap" was particularly incredible — thinking of Rob Sheffield's "all songs should either be fast or sad" proclamation, this was a deluxe fast-and-sad model.
The band buzzed through their 2013 album Trouble Will Find Me, only diverting from that particular task to play "Murder Me Rachael," a song of theirs from 2003 that sounded right at home tucked into the set list. Maybe this is part of the longitudinal appeal of The National? That they found their signature sound when they were so early in their careers, and have been making simple, sometimes imperceptible edits to it ever since, creating a steady presence for fans to latch onto? The true definition of "honing" a sound — the blade has already been forged, now it's just getting sharper and sharper.
When they switched over to non-Trouble songs for the back half, I started giggling at one particular couplet from "Tropic Morning News," a release from this year:
I'll be over here lying near the ocean
Making ocean sounds
Like........what???? I'm still thinking about it days later. "Ocean sounds" could be, idk, whooshing like a gentle wave, or blubbering like a jellyfish, if jellyfish do in fact blubber. Or maybe it's a tautological thing: like, every sound you make when you're lying near the ocean is an ocean sound. It almost sounds Pavement-y: Ocean Soundz. The other piece of The National puzzle locked in for me then, that beyond the austerely romantic presence of the lead singer and 'hella tight' configuration of the instrument-playing members of the band, The National's lyrics contain a huge number of koans to chew on, all of them knotty and malleable and a little bit salty...just like a soft pretzel.