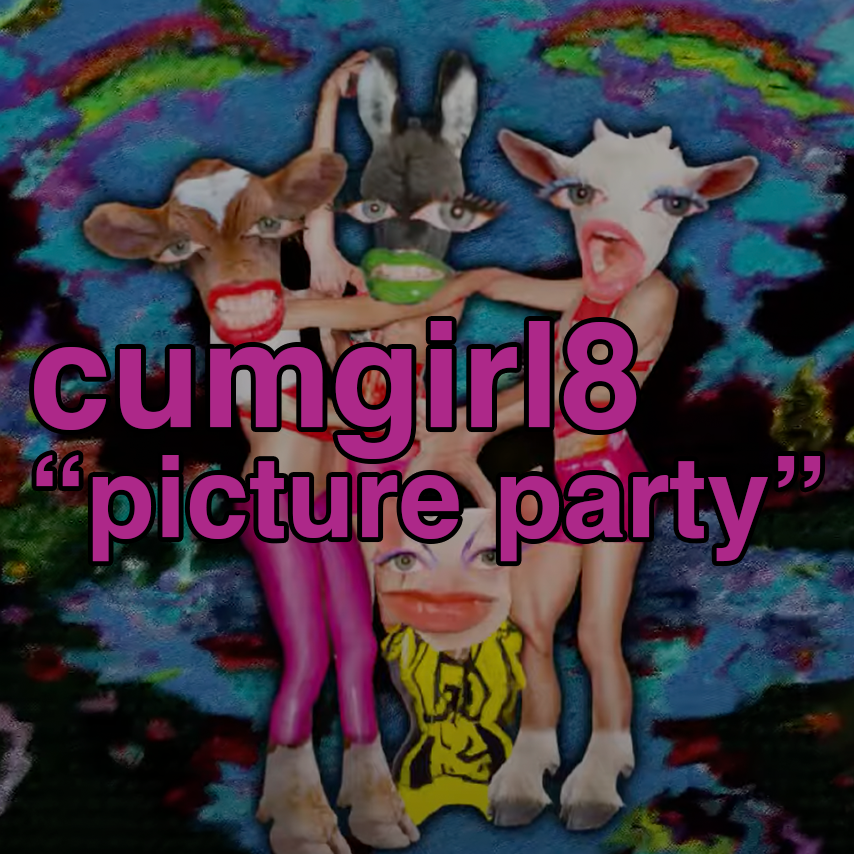 "picture party" - cumgirl8 feat. Christeene
I went for a run on Friday and decided to put on the Apple Music "new music" algorithmic playlist. Bad blogger! Lazy! But sometimes it's just easier if Steve Jobs hand-picks and delivers the songs to you, all neatly wrapped in a bow. Certainly easier than trying to DJ while running — I am, after all, still growing back some fresh skin after eating shit on a run, having tripped over an uneven bit of Los Angeles sidewalk. I could have fallen into a cactus and died. Safety first, Apple take the wheel.
After listening to some new tunes from Death Cab For Cutie and the Kills, I heard these words, delivered in a sarcastic monotone (somehow evocative of Parker Posey?) over a warped electro beat:
Collagen
Estrogen
Botox
Serotonin
Juvéderm
Keratin
Biotin
Probiotics
I just took a huuuge shit
I'm ready for the picture party
What an incredible introduction to "picture party," a techno-sleaze song by NYC band cumgirl8 off their new EP phantasea pharm. Pitched somewhere between Peaches' "Flip This" and Gravy Train!!!!'s "Burger Baby," "picture party" is a banger that nails the mood of attending the kind of gathering that hosts more photographers than civilians...the kind of happening where you can't get your thoughts straight because every 2 seconds there is a bright white FLASH...the kind of shindig where you go home and wake up the next morning and refresh your 'gram to see if whoever was snapping pics put up any good ones of you or if your image was devastatingly left off the carousel...you know what I'm talkin about.
All of the lyrics are fab, but I give a special shoutout to "Plié, relevé / I think your wife is gay," as well as guest vocalist Christeene's bewildered outro: "Where all these people come from? Where all these people going...with my picture?" If you're going to clash some electro, you need to do it with confidence, and cumgirl8 have the goods. I am sure this is already in heavy rotation at the picture parties of New York Fuckin' City and if not, it should be!
---
Check out cumgirl8's phantasea pharm here.