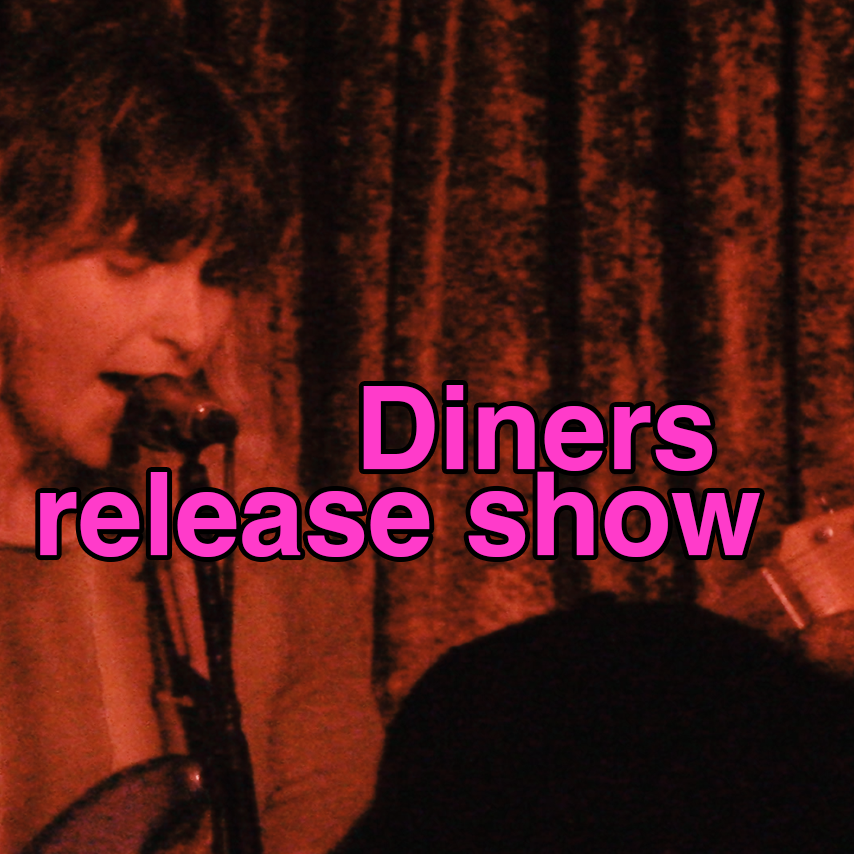 i went to the Diners album release show and all i got was this sense of profound wellbeing
My mission to get to know the various rock venues of the city of Los Angeles continues apace. The latest: Genghis Cohen, an NYC-style Chinese restaurant in West Hollywood with a listening room tucked away to the side. As I walked into the resto, the air within was redolent of rich noodle dishes, the lighting was low and red, and Blue Broderick of Diners herself was at the merch booth, slinging possibly the best merch I have seen in some time: white shirts, with blue lettering that spelled out MUSIC IS MAGIC (I learned "music is magic" has been a bit of a Diners Twitter mantra), and music notes sprinkled down both long sleeves. Sensational.

I missed opener Wanda What, but scooted to the front in time for Slippers, a three-piece band with...yes that's right...a LEAD SINGER SLASH DRUMMER. In the words of Emeril Lagasse, "Oh yeah, babe." This lead singer slash dummer is Madeline Babuka Black, who also plays in Le Pain; she percussed the group through a series of gently punkish + bittersweet tunes, including "The Bus," which was introduced as a song about a perpetually tardy ex, and began with the couplet "Just like the bus, you're always late / Just like the bus, you leave me trapped inside a room of strangers."
Then Diners hit the stage. The new record, DOMINO, has a warm power pop sound that feels cozily familiar, earworm melodies (especially on standout songs like the sanguine anthem "The Power"), and an overall aura of being an 'unearthed classic' even though it came out just a few days ago. In Paste's recent profile of Diners, Thin Lizzy is brought up as a reference point for the album's recording, and DOMINO definitely has that same spry, hook-y snap of Phil Lynott and company.
Experiencing it in person through Blue's magnanimous stage presence, the great chemistry amongst the live band members (including DOMINO producer Mo Troper on guitar), and the clear admiration of the packed room was very special. Sometimes live music, with its occasional harsh noises and bump-prone crowds, can cause me feelings of tenseness and agitation, but there was a really pleasant and almost relaxing feeling in the air as Diners jammed out.
I left the show in a very good mood, and walked toward my car parked in a quiet pocket of WeHo, thinking about the chorus from "The Power": It ain't too late to understand, too late to try / Too late to recognize the power that's inside. Simple but effective. We as a nation have been subjected to perhaps one too many superhero movies in which a young person 'gets' 'powers' by accident — which doesn't always involve bugs, but sometimes involves bugs — and then has to navigate some sort of complex multiverse. But life is not a superhero movie, and getting ahold of your powers doesn't have to happen by accident, and there might be a multiverse out there but we are specifically here right now, and thankfully we're way past the time when rock dudes wrote gruff songs about how it's not easy being Superman. The power is inside! And it ain't too late to recognize it! Something I must remember, especially when I delude myself into thinking everyone knows what they're doing but me. Whew, music is magic.
Last thought: I especially loved how Blue closed out almost every song with a dramatic hop in synchronicity with the drum's ultimate whack. Hell yeah.

DOMINO is out and you can find it on Bandcamp here, and the Diners linktree here.