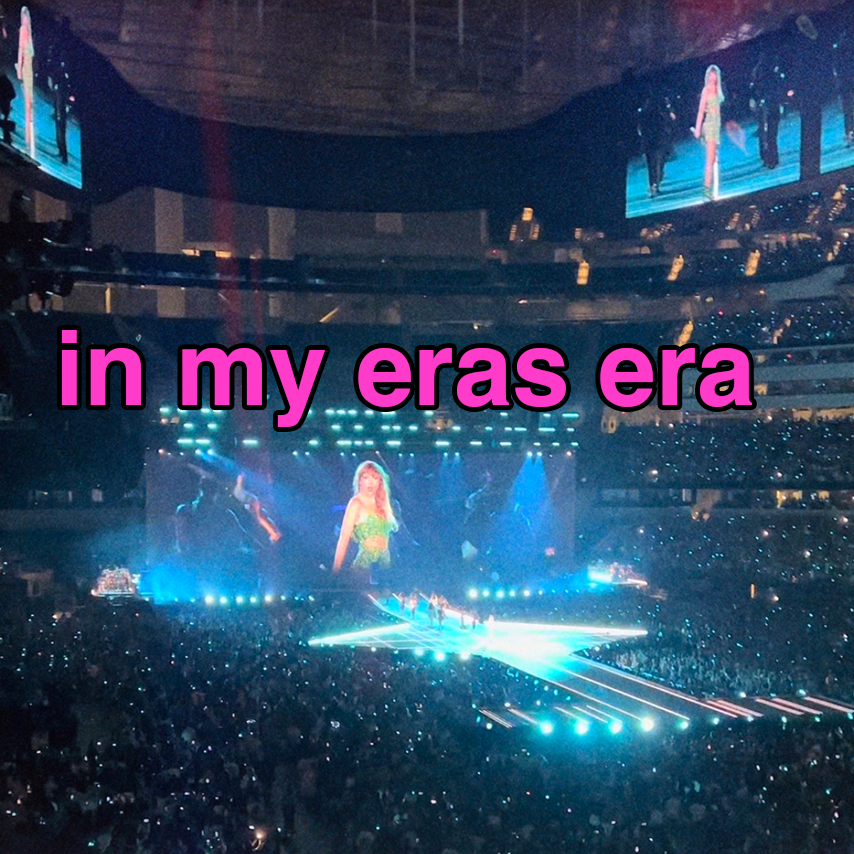 stray thoughts about seeing taylor swift's the eras tour at sofi stadium (night 5)
Slightly toasted at a party in Hollywood the other weekend, I found myself agreeing to go to one of Taylor Swift's Eras Tour shows at Los Angeles' SoFi Stadium with my friend Dana. Dana's rhetorical skills and political machinations are unmatched. Though she is a writer by trade, I also think she could be a phenomenal agent, TV producer, or other business-style mover-shaker. Because how did I go from "I don't really need to see Taylor Swift play a concert ever in my life" to "I will spontaneously spend [too much money] on Taylor Swift tickets"? Hire Dana for your convincing needs.
There is a phenomenon happening at the Eras tour where attendees are essentially blacking out at the show, unable to remember the 3.5-hour experience (more like five hours if you count the openers) in any detail, just shapes and colors, like a newborn baby. I truly believe that Taylor Swift syndrome (or as my bud James put it, "getting m tay ultra'd") might be the new Stendhal syndrome. Her show is precisely designed to flood your brain with pleasurable chemicals, and it is no surprise that the combination of bright lights, shiny costumes, ultra-high-def visuals, shifting stage setups, loud music, and the omnipresence of Taylor Swift's large, looming, winking face is turning fans into the guy from Memento at the beginning of the movie. "I'm chasing this guy...no, he's chasing me."
STRAY THOUGHT TIME
The first thing you need to know is that my husband Chris drove Dana and I to the stadium, and for this, he is a hero. It would have cost $9,000 to take an Uber, and $10,000 to park, and though it was nice that public transportation service got extended 'til late to help all the TS fans out, I still live so far away from Inglewood that I would have gotten home in 2024. Big ups to Chris, our chauffeur.
SoFi Stadium: great stadium, incredible design, ultimate optimization. It contains a large LCD ring, reminiscent of Tame Impala's glowing stage donut, that circles the top of the structure, offering additional camera views to 300- and 400-level seats. Apparently this is called the Infinity Screen, by Samsung. You wouldn't think they could keep innovating in the screen field, but it seems like scientists are working around the clock to come up with new and exciting screens. As a result, an unprecedented amount of Taylor Swifts were projected within the space throughout the night.
This was the first time I had access to one of those remote-controlled bracelet that changes colors and blinks on and off throughout the night in tandem with the other 70,000 people there. I believe the first band to use this type of tech was Coldplay, on their Mylo Xyloto tour. They've since proliferated to many stadium shows; Lady Gaga had them at the Chromatica tour last year, but only for floor seats. And you know what? This is why Lady Gaga is a legend, but will never conjure the same parasocial energy as Taylor Swift. Taylor Swift doesn't want you to feel left out. Taylor Swift will keep you in her inner circle.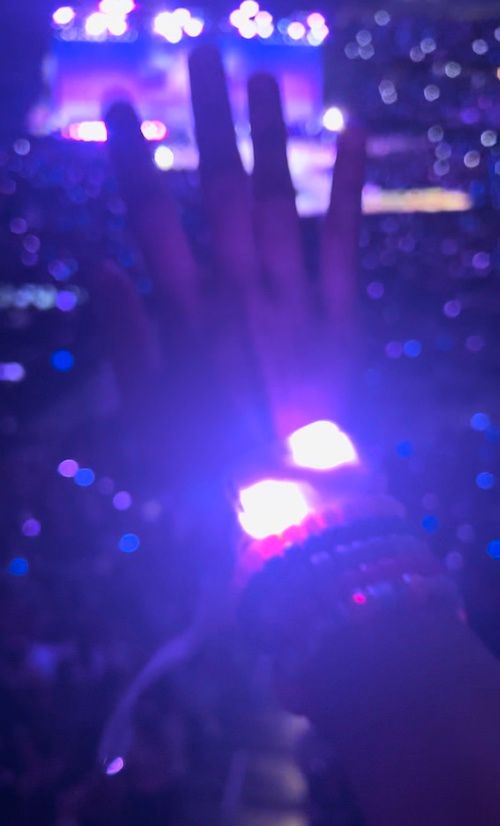 A Taylor Swift Eras Tour show has rituals, customs, and props. Dana taught me about moments where the crowd screams different chants, and she made a bunch of friendship bracelets to trade. All of this reminded me of para-spiritual activities like EDM concerts, where unspoken codes of conduct shape the experience, and a sort of group genuflection occurs naturally as a result. For example, Swifties collectively avoid purchasing posters until after the show, because they might block someone's view.
Speaking of customs, the wildest moment of the night actually had nothing to do with music. After "champagne problems," the crowd cheered. And they did not stop. ("They" - I was cheering too, of course.) It lasted ages. Apparently it ended up being eight minutes of applause in total. Watching Taylor Swift react to this applause — which, to be clear, is a memetic exercise that has developed over the course of the tour, with audiences more or less competing with each other to have the longest ovation — was fascinating. She alternated between "golly gee shucks, aw you shouldn't have" and "gimme more." You could literally see her power up, like a lithium ion battery. She was absorbing the applause like...ah fuck, I watched Marvel movies once upon a time...the special substance that they have in Wakanda, where if you turn it into armor and then hit the armor, it turns purple? It was like that.
In that moment, the thought I had was Taylor Swift honestly shouldn't be able to handle this kind of attention. I don't know if anyone should be able to handle this kind of attention!
It sounds like Ryleigh Wann shared this same feeling in The Alternative's roundtable Taylor Swift fandom discussion: "My biggest take away after a few days was that nobody should have that much power. It was startling. I've never seen such visceral emotion coming from people of all ages."
Taylor Swift's FACE. I kept thinking about it, it was kind of burned on my retinas after the show was done. In a John Seabrook New Yorker article on K-pop from 2012, he talks about SM Entertainment founder Lee Soo-man's "cultural technology," a "sophisticated system of artistic development" designed to propagate as many K-pop stars as possible throughout the world. One tenet of this cultural technology is a sort of programmed watchability, a scalable self-presentation designed to be memorable and personal and create parasocial feelings from the audience toward their chosen star. Seabrook pinpoints it in one singer's "eye smile," which to him imitates the feeling of intimate eye contact, even when seen through a screen and across a gigantic arena. On the Eras Tour, Taylor Swift has maximized her own cultural technology through her facial expressions. She never stops making faces!! She has a zillion faces: winsome face, saucy face, evil face, self-effacing face. Everything is cultivated to match the music and moment.
The crowd was amazing, and at least in our section lacked any kind of TikTok-y attention-seeking. We befriended our seatmates, and they shared their hopes for Taylor's "surprise songs" — deep cuts played on solo acoustic guitar and piano, almost always different each tour stop, tracked and predicted and enjoyed with just as much fervor as anything from Phish's catalog. I beg of you, if you ever go to an arena or stadium show, take two seconds to meet your seatmates. I believe 99% of concert-based annoyance can be mitigated if you introduce yourself to your neighbors before things start to pop off. You aren't the main character, man, you're in an ensemble cast for the night. You're on the show Friends, and the guy next to you? He's your Joey Tribbiani.
Taylor Swift, of course, is not our Joey Tribbiani. She is our Bruce Springsteen. By that I mean someone who trades in Americana above all else, who embodies the "storyteller" as their main creative role, whose iconography is "humble superhero," whose chief emotional export is "yearning," who approaches live shows like they are sweaty multi-hour marathons meant to make you feel like you've been hit by a bus in the aftermath, and whose ticket prices are egregiously expensive. But she's not a man. She's a g-g-g-girl! Instead of a baseball cap tucked in the pocket of one's jeans, we have sequins and shiny plastic cowboy boots. It's Girl Time out here. It's Girl O'Clock. We're in the Summer of the Girl.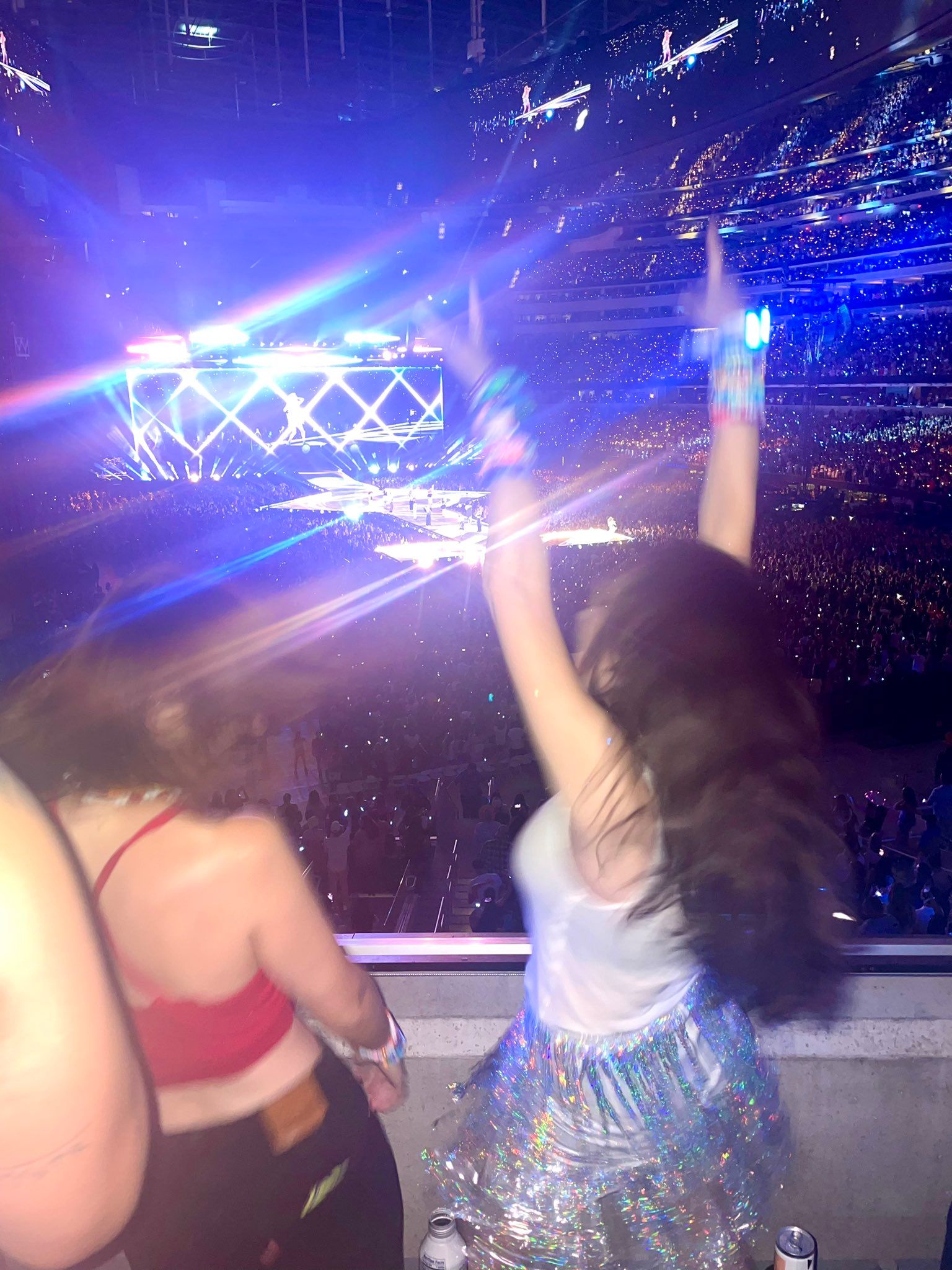 Taylor Swift is a video game avatar, a sparkling princess, a cast member of Chicago, your BFF, a large statue of a woman, an Avenger, and a fairy playing a moss-covered piano. (RIP girlboss, it's time for Girl Moss.) On this billion-dollar tour, she seems to have hacked her own source code, quantumed her physics, becoming both waves and particles, finally able to refine and synthesize all of her eras into a singular nuclear mega-era. The tour attendees' costumes were screaming Barbie, but the back end feels more like Oppenheimer. I would be scared if I weren't so entertained!