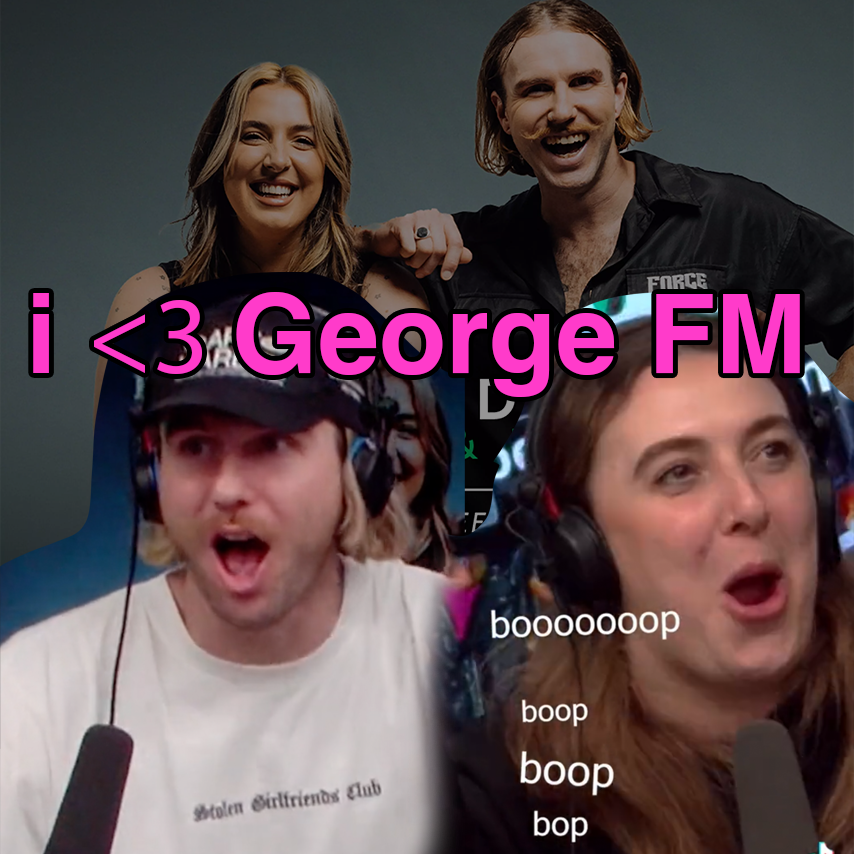 i have gotten obsessed with a dance music radio station in new zealand
My TikTok "for u page" is very oriented toward electronic music. Lots of epic drops at various festivals, John Summit drinking Don Julio 1942, techno people in that yellow HÖR bathroom...recently I started seeing lots of clips from a New Zealand electronic dance music radio station called George FM, and specifically from a show called George Drive with Sin & Brook. Sin and Brook are two jovial Kiwi disc jockeys who seem to know every good dance track ever done by anybody, and who play musical games like "Does It Double," in which they spin a wheel, land on two random tracks, and mix them live in chaotic fashion.
If you need an entree into the George FM lifestyle, I would start with this video...the girls who get it, get it, etc. etc.
It turns out I can stream George FM through Apple Music. The station has immediately become my new car music go-to. Pros of listening to a New Zealand radio station beyond the general bangers-oriented programming:
Commercials for events and products that have nothing to do with you. Commerce without obligation, baby!
Kiwi accents: I love 'em.
It is hilarious to listen to a somewhat time-oriented affair like terrestrial radio when you are nowhere near the geographic location of the station. Like right now as I write this, it is winter in NZ, and, at 9:18 in Los Angeles, it is 4:18am in Auckland. Therefore you become unstuck from time by listening to this station. Reality is negotiable, man.
This week I went to see the R-rated talking dog comedy Strays (hey, I'm an AMC A-List member, this is exactly what this membership is for) and popped George FM on for the drive home. Some deeply silly and yet undeniably brain-melting old-school dubstep was playing: "Crush On You" by Nero, from their 2011 debut album Welcome Reality. I started giggling uncontrollably. What the fuck was 2011? What did we do to deserve the mainstream dubstep explosion (positive)? This musical movement, which expanded far and wide into pop culture, from Taylor Swift's "I Knew You Were Trouble" to the Key & Peele dubstep sketch, is so simple and pure at its core: a producer asking the essential question, what if a mid '80s pure pop banger got a little juiced up and then went WEEEEEEEWAAAHWAAAHWAAAAAHWEEEEEOOORRRRRRMMMMM?
I only barely dabbled in turn-of-the-'10s dubstep when it was happening. There was one night at a dance club in Burlington called Rasputins — or as we called it, 'Sputies — where the DJ was spinning some dubstep in the side room, and I, very drunk on shots that were formulated to taste like Jolly Rancher candies, danced so hard to these tunes that I threw out my neck. I wasn't ready for the heat at the time. The sun: I flew too close to it. Now, older and wiser, I can enjoy dubstep sensibly...thanks to the machinations of the DJs at George FM!! I'm in love!!!