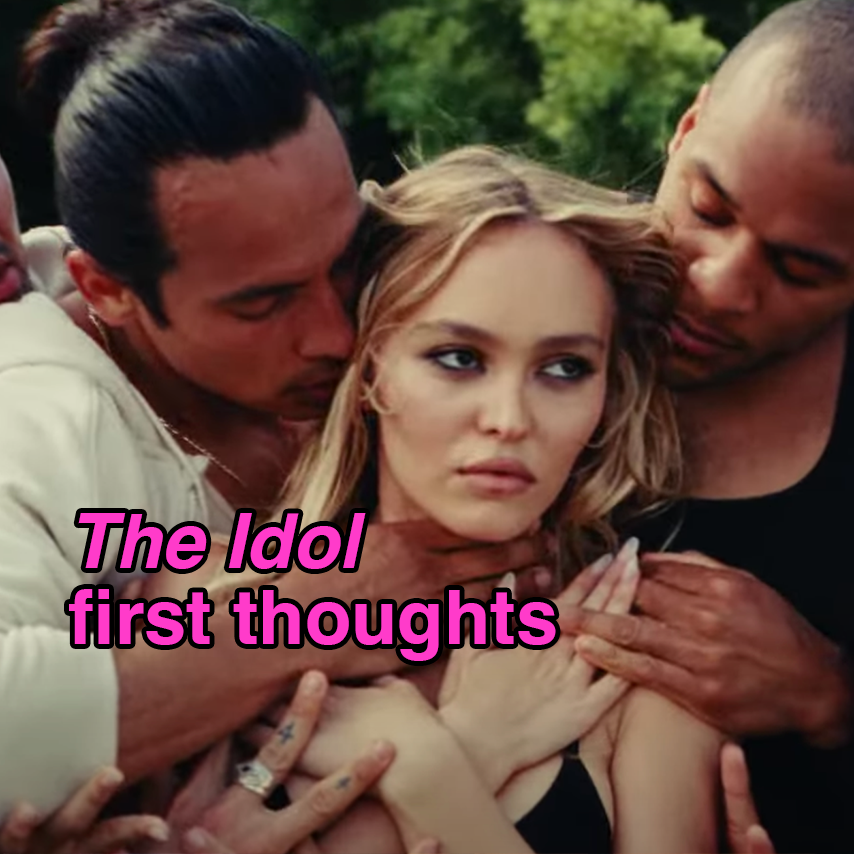 intermittent strangling: stray thoughts on the first episode of 'The Idol'
I am committed to watching as many fictional portrayals of female pop stars as possible — from Lady Gaga's incredible omega-grindset torch-singer Ally in A Star Is Born to Natalie Portman's baffling, household cleaning product-quaffing Celeste in Vox Lux — therefore it is my duty to watch the new HBO show The Idol, even though its production sounds like it was a mess. No one ever gets pop stardom completely right when they try to port it to movies or TV but god it's fun to watch people try.
The Idol stars Lily-Rose Depp as mononymous pop star Jocelyn, a young woman doing her best to emerge from a mental breakdown-induced flop era, and Abel "The Weeknd" Tesfaye as nightclub owner (?) Tedros, who somehow successfully seduces her despite looking and acting like a person you would definitely try to avoid if you met them in almost any circumstance on planet Earth. In the first episode, the star-crossed lovers meet, carouse, and record some music (?) amid a PR crisis involving a leaked photo of Jocelyn with cum on her face. That's pretty much it.
My stray thoughts:
Maybe it's wishful thinking, but I'm always hoping for depictions of pop stardom to show the side of being a working, popular musician that civilians never see. Perhaps via the sage consultation of musicians who've actually been there, like show co-creator The Weeknd? Pop is all about the facade, give me the realness, please. But I don't think The Idol is giving us the realness. I don't think poor Jocelyn would be rehearsing a huge dance number in the hot LA sun in her backyard. No wonder she's crying between numbers. She's hot and tired! Get this girl in a studio with some air conditioning, she deserves it.
Were they legally required to call out their choreography as a Britney homage? Britney's rise and fall is such a crucial part of pop history that you can't really erase her from even a semi-fictional universe, I guess. They used "Gimme More" in The Idol trailer and all the YouTube comments were about how iconic Britney is, which feels like a distraction from the show premise at hand. Britney looms so large that it's hard to even figure out where a Jocelyn stands in pop history in comparison to her. And these days, pop fandom is so unbelievably dominated by chart-watching, sales-tabulating and Metacritic analysis that there needs to be some kind of quantification portrayed. Otherwise I don't know who Jocelyn is: a fallen Olivia Rodrigo? an Addison Rae made good?
The first Jocelyn song we hear ("World Class Sinner", great name) doesn't sound like it would be a popular song in the 2020s necessarily, but it doesn't sound completely awful. I wish I knew who wrote it! The Weeknd did the music for the series, did he do the individual songs? Surely Sia is not involved in all of this??
I need to go back and do a cigarette count for the episode. Jocelyn blasts cigs constantly. Counting the cigarettes Jocelyn smokes per episode seems like something a TV recapper would do.
Tedros' behavior at his club is APPALLING!! He keeps honking on about this and that on the microphone, interrupting the music all the while...he isn't even the DJ! Then he calls out Jocelyn's presence in VIP and asks her to dance, also on mic? Terrible clubsmanship.
I really enjoy Lily-Rose Depp's performance so far. She offers a vacant but pleasant energy that makes sense for a striving, wayward pop girl. And there's something that rings very true about her primary feelings re: her career being embarrassment. And the opening shot where she makes a bunch of different faces for a photo shoot and ends up crying a single tear is fantastic. Between her and Margot Robbie in Babylon, we are living in a real Hot Girls Cry On Cue era.
Eli Roth playing a jerk is never not going to do it for me. God bless him.
We meet a ton of ancillary characters in this episode and maybe I got cigarette smoke in my eyes but even though they all have individual jobs, I can't exactly tell what their individual responsibilities are. They form an amorphous blob: PR rep slash label rep slash manager slash agent slash assistant slash creative director slash best friend. They're all either good at their jobs or terrible at their jobs and it doesn't seem to matter either way. At least I know the lovely Jennie Kim of BLACKPINK is a dancer. It is known.
What is there to say about the gender / sexuality / exploitation / gaze of it all? I don't know, man. The choreo of the sex scenes is extremely 50 Shades of Grey (derogatory). There's so much erotic (?) asphyxiation in this first episode that I have no choice but to believe they were going for some kind of overwrought metaphor for being sexually objectified as a singer. Otherwise it's just 45 minutes of intermittent strangling for the viewer's pleasure (?), as if a woman's true clit were located in her larynx. He's a choker, she's a smoker, they're both midnight tokers...
What is the tone of this show? It's difficult to say. There were moments of comedy and moments of detached pseudo-horniness but neither really intersected. I was left in a vat of cold emotional porridge. Here's the thing: The Sopranos and Mad Men are two of the greatest television shows of all time, and both shows are about how work is like sex, sex is like work, and both work and sex are very funny. Girls is another show that understood this dynamic. And I wish more new TV shows understood it because then these shows could become very entertaining, which is what we all want out of TV shows last I checked.
One more stray thought: I couldn't stop laughing when Tedros comes over to Jocelyn's place for a rendezvous. He skulks around her mansion. Her friend skulks around watching Tedros skulking around. Jocelyn skulks around a bit upstairs, wearing a robe that seems to skulk around her very body. 300 cigarettes are smoked. I started thinking Jocelyn and Tedros were never actually going to meet, trapped for eternity in a circle-lurk, waiting for the other person to go downstairs or upstairs after the white powder cigarettes finally ran out. How silly of me. The cigarettes will never run out!! Not on this show.