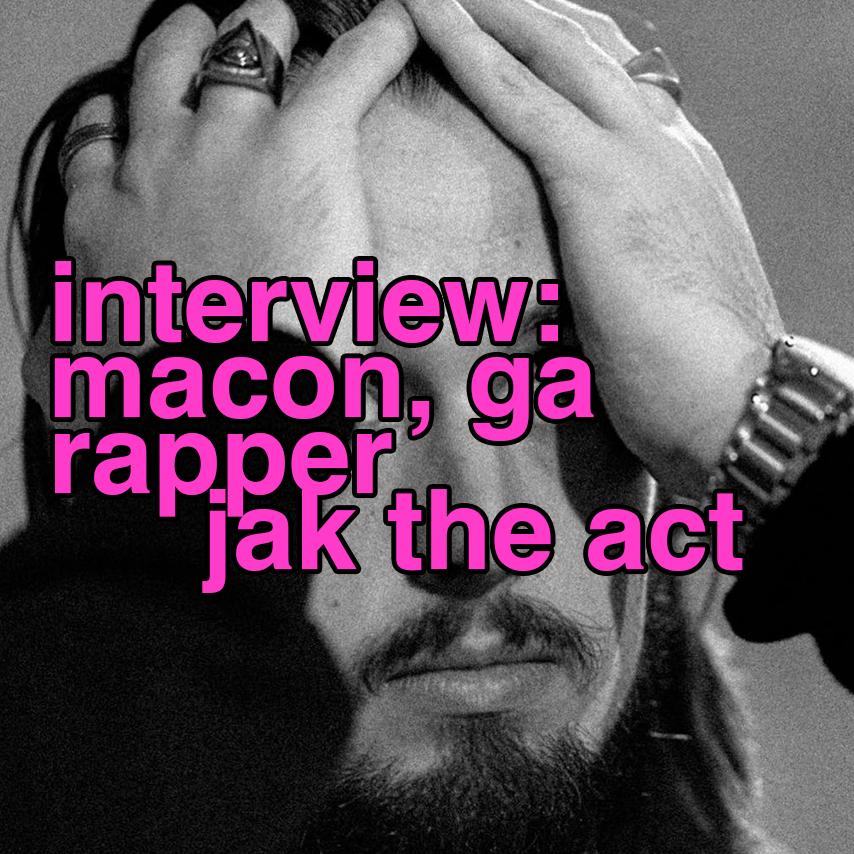 an interview with jak the act
When I saw Macon, Georgia rapper jak the act sharing his new album in the Alternative's Discord, I was intrigued. I pressed play on the opening track "Have A Seat" and after a twinkling, tour guide intro, he went in: "Named one of my cats after Earl Sweatshirt / This might be some of my best work / Feeling like a young Bernie Sanders, / y'all, like a less likeable Ned Flanders." Oh hell yeah....I needed to hear more.
from nowhere, to nobody is a collaborative project featuring lush and expressive beats by Fendi Pendergrass and verses by a host of other Macon rappers. After having listened to it, I think it channels a pure passion and a sense of community that feels really genuine and refreshing — at a time when a lot of musicians seem to be doing things 'for the bit' (and hey, nothing wrong with doing things just for the bit), Jak the Act's efforts feel like they're made for the love of the game.
I asked Jak the Act (aka Jackson Dillard) some questions over email about the project and his answers were awesome; I learned a lot about the Macon music scene, how collaborative albums are currently getting made via artist-led Discord channels, and what was on Riff Raff's rider in 2015.
---
How long have you been rapping? Was there any particular hip hop music that first inspired you to start?

I started rapping as a freshman in high school. I was fourteen and on the cross country team. I was listening to a lot of the big pop rap at the time, but it was MF DOOM, Aesop Rock, and early Odd Future that really inspired me to start writing. Mac Miller has also been one of my biggest influences as I've grown. His incredible musical progression over the course of such a tragically short life was truly a blessing.

How did you first start working with Fendi Pendergrass, and how would you describe the vibes of your collaboration?

My friend & collaborator (rapper/producer/photographer/videographer) Kaffo, the Sensei mentioned Fendi to me about two years ago. I messaged him, we hit it off immediately and I bought a couple of beats from his BeatStar account. He does a lot of The Alchemist & Griselda type beats and I love that sound, so I ended up buying a few more as time went on and the project began to take form. I also joined his Discord channel and won two of the beats ("have a seat" & "penance") from an open verse challenge. It's kind of wild but we've never actually met in person so all of the collaboration was done online.
Will you tell me more about what happens with an open verse challenge? i.e. how do you find out about them, do you hear other people's verses, etc.

With the Fendi Discord open verse challenges, he basically posted a beat for people to write to and since there usually weren't many submissions it was decided on who got the most reactions to the post. One of them I was the only one who responded at all so I won by default lol. I'd say even more than the Fendi Discord I'm extremely active in the Asher Roth Discord, which has been doing collaborative community albums. People submit beats for people to rap over, then artists do weekly submissions over those beats, and then the community decides by vote which songs get considered for the tracklist. That community has a bit more structure to it and actually just released an album called Fall Semester '23.
I've met a bunch of really cool people through that Discord and even though I didn't get a song picked for that last album, it's been a really great experience for my writing process. With both of these communities, I had already interacted with the artist that started it a good bit, so I figured I would find similar artists.

What inspired you to make from nowhere, to nobody? How long did it take to come together, and what was the behind-the-scenes production process like?

With from nowhere, to nobody I wanted to make a mixtape-style project that dealt with my relationship with Macon (I've lived here for almost 20 years) and featured some of the most talented people I've met during my time making music here.
The final track, "fendi cypher," was actually the first one I organized. The process for that one started early 2022. I wanted to do a posse cut like some of my favorites ("Really Doe" by Danny Brown, "1 Train" by A$AP Rocky) and I've played shows with Sarieon Los and Franky D since like 2016 so they were two of the first people that came to mind. I mentioned Kaffo earlier and he's seriously one of the most talented dudes I've ever met, an all-around cool guy. Patty Spice is one of my best friends from college and he's also an insanely gifted producer & engineer. He actually sent me both of his verses on the project unprompted but they were so good, full of such incredible energy and substance that I immediately told him they were going to be on the final release.
Don Julius is also one of my best friends in real life. We've been working together as bartenders for almost a year & a half, and we've known each other since before I started rapping, so the musical collaborations came very naturally. There.Are.No.Hills. is one of Julius' friends and I actually got his verse on "tapped in" unprompted too, but that was another one I immediately knew I wanted on the project.
Florenz Grey is one of the first friends I made in college, we used to be in a group together called Fresh Valley Kings back in 2015-16. Our local claim to fame at the time was a very goofy song called "Wrist Up" and opening for Riff Raff when he came to Macon. "power trip" started as a tribute to Riley Gale, and Grey's verse on there is probably my favorite he's ever written.
I've known Charlie Zero since high school and he's also a member of a fantastic local rap group called Collective Sp8ce. I knew I wanted to get him on "another night in macon 2," which was a sequel to a song I wrote in 2015 that was a lot more of a naive, happy-go-lucky take on my relationship with the city at the time.
The solo tracks all came together super quickly. "the fool" in particular is some of my favorite writing I've ever done. Sometimes all it takes it that first line and I can just knock the whole song out in an hour or so.
I would love to hear more about opening for Riff Raff if you don't mind?
The Riff Raff show was one of the most surreal experiences I've ever had. My friends and I had been consistently playing shows around Macon for about 4 months and they needed a local opener, so we just emailed the venue and asked. The show was on April Fool's Day so I think a lot of people initially thought it was a joke but we were able to push a good number of tickets and had a decent crowd.
Meeting Riff Raff backstage was wild, he's actually exactly how you'd imagine in real life based on his internet presence. His rider was 2 bottles of Ciroc, a bottle of Patron and a 10-pack of black athletic socks, AND he pulled up with his DJ & tour manager and each of them had two bags with two Four Lokos (so that's like what…32 Loko?). In addition to being absolutely trashed before his set, this was also peak steroid Riff Raff, so he was lifting these huge weights in the green room, blasting some unreleased trap rap allegedly from some artists he'd signed to a label he said he was starting. The funniest thing that happened backstage by far though was when he turned to me and told me that he was about to play his favorite song ever. He'd been playing exclusively rap up to this point but I swear he puts on "Ship to Wreck" by Florence & The Machine and starts passionately singing along.
Our set went really well, we played a whole hour of original material and then honestly Riff Raff kind of bombed because he got so loaded before the set. It's a shame about all the allegations about him that came out the next few years because that was a really fun night, but I definitely believe the women that have come forward based on the interactions I had with him that night.

What's the music scene like in Macon?

Macon is a super historic music town. Otis Redding and Little Richard are both from here, The Allman Brothers Band too, so there's a lot of retrospective musically on the city level. A lot of what I'm tapped in with going on today has roots in our best record store, Fresh Produce, and is now based around our best venue, JBA. Both spots made big moves to bigger locations this year and it's been really cool to see them scale up in real time.
Fresh Produce used to be more of a DIY venue that you could always count on to have a seriously wild experimental show going on pretty much any night of the week. That's where I got my start performing, doing Third Sunday Funday with an incredible roster of DJs, bands, and rappers. Huge shoutout to Willie D (William Dantzler) for being a cornerstone of the scene for a decade. JBA started as a little dive bar and venue on the corner and now has one of the biggest spots in town with 3 separate bars. They've started their run of live shows since moving to the new spot with all of the biggest local acts, which is also a perfect overview stylistically of where the scene is at now.
We've got some incredible indie/alternative rock going on with bands like Shy Company and Tier Blue. We've got some amazing rap acts that play with full bands like Bob Lennon, African Americana, and Collective Sp8ce. A few other really gifted rappers I have to shout out are TrenchGodBlo, Kvng Majik the Moon God, and g monet. We also have some super talented DJs like B3, Uhoh, and 3nigma. The local band that I'm closest too, though, are also some of my best friends. BZKZ (fka Bootz & Katz) started as a "livetronica" band, blending heavy bass and house DJ sets with live guitar and bass, and sometimes drums as well. They've been doing a run of shows at JBA where they play for four hours straight and incorporate their own original songs into the set. I got to see them last weekend and I was so struck by how far they'd come and how fun, dance-y and accessible their music has become in the last ten years. I'd recommend people check out everyone I've mentioned so far, but they're really something special.
Lastly, what is generally your live performance setup — DJ, live band, solo? And performance-wise, what would be your dream gig in terms of venue?

Usually it's just me and a DJ who's cued up the tracks, pretty bare bones. The few times I've rapped with a live band playing it's been amazing though, and I'd love to do that more in the future. I've finally got another show in the works at JBA (the last show I played was December 2021) and I'm definitely trying to level up my live show with some visuals. My dream gig within reason would be The Tabernacle in Atlanta. I've seen so many amazing shows there and it would be such an honor to play that stage. Big picture though, Red Rocks is really my endgame. The first song on my first EP as jak the act was called Red Rocks and hopefully that manifestation pays off.
---
Listen to from nowhere, to nobody here.