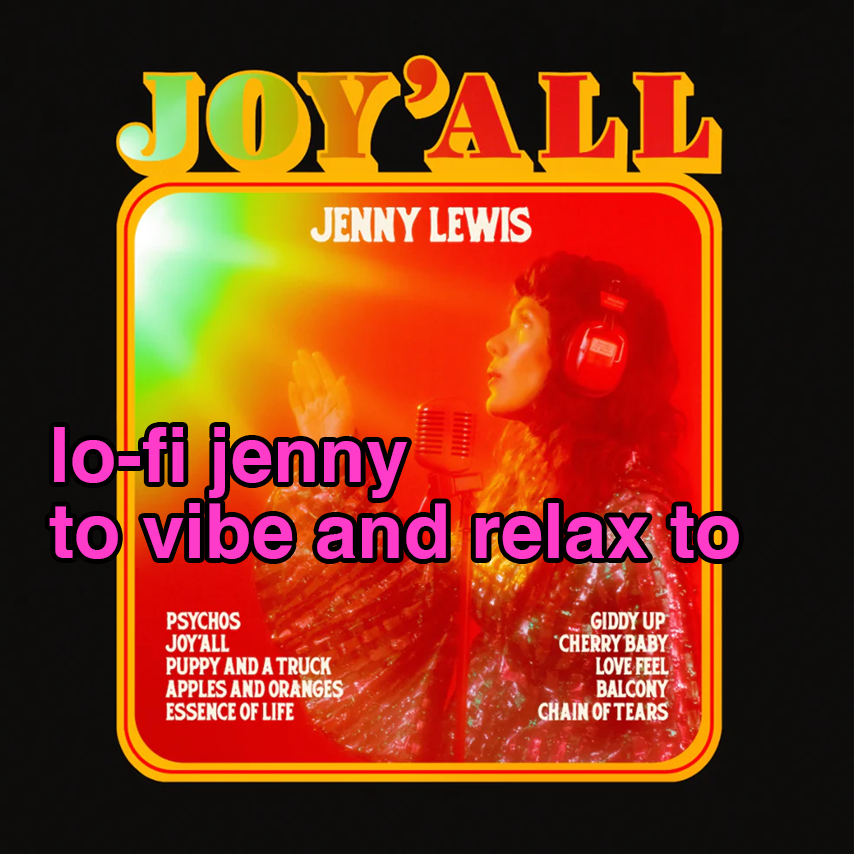 'Joy'All' - Jenny Lewis
IT'S JENNY DAY!! I just listened to Joy'All, the latest, newly-released album from Jenny Lewis. Ms. Lewis has put out four studio albums with Rilo Kiley, one as Jenny & Johnny with her ex-partner Johnathan Rice, one with the all-female band NAF, and now four solo albums as Jenny Lewis (five if you count the first one, Rabbit Fur Coat, with the Watson Twins). I have personally been listening to Jenny Lewis since I was 15, in 2004, when More Adventurous came out. She is my favorite musician and I have truly grown up with her tunes.
Do all people have this type of artist in their life — someone to literally grow up with? Jenny Lewis is almost fifteen years older than me. When I was a teenager, the melodrama of "Portions For Foxes" got me a little too pumped for a future of bad news men, broken promises, talkin' leading to touchin', touchin' leading to sex. I didn't have a driver's license or a true first smooch yet, but I saw myself, already, as a modern girl who folds in half so easily. She had me fucking pegged and she didn't even know me. Then when I was in my twenties, Jenny's expansion into the psychedelic, spiritual questions of The Voyager and the slightly weary, lounge-singer romance of On The Line made the freaky premonition of my thirties way easier to parse. Listening to Jenny Lewis is kind of like watching a long-running television show about a type of girl you could be, if you approached life with a bit of flair...aplomb...dare I say...gumption??
The word I'm really thinking of is equanimity. Jenny's own story is full of intrigue of a scale far beyond the comprehension of your average Joe or Joanne — though I'm half-convinced this is just a quality shared by anyone who was born in Las Vegas, which is more of a mirage than a city — but the vibe that holds fast through her decades of music-making is one of composure, and even humor, in even the most difficult situations.
When I saw Rilo Kiley play in 2005, Jenny sang the pivotal line of "Portions For Foxes," the one about the the moment you give in and hook up with the guy who's bad for you, in a sugary tone that abruptly switched to a scary-funny death metal growl: And I call you and sayyyyy, 𝖈𝖔𝖒𝖊 𝖍𝖊𝖗𝖊. If comedy is tragedy plus time, Jenny Lewis music compresses time so that whatever sad thing happens is also a little bit funny right off the bat. She sings about love a lot of the time, and love is always a little sad, because you can't fall in love without thinking about the possibility of it ending. We were unlucky in love but I'd do it all again. I'm gonna love you 'til I die. I could love you 'til all the Polaroids fade.
But Joy'All does not marinate in the melodrama of love. Joy'All is a deeply pleasant album, full of cheeky allusions to dating in your forties ("I'm not a psycho / I'm just trying to get laid") and seeking out less complicated paths toward happiness as you get older. This album is lo-fi Jenny Lewis to vibe and relax to; it doesn't have the epic sweep of The Voyager or the shaking-the-last-few-drops-out-of-the-bottle-of-red, party's-almost-over pallor of On The Line, but that's more than fine with me. Mood-wise, it feels closer to Nice as Fuck, the deeply underrated 2016 album she made with Erika Spring from Au Revoir Simone and Tennessee Thomas from the Like: simple choruses, repeated notions, a confidence in the universe's ability to hold you when no one else will, a cheerful "fuck it" mentality. The kind of album you can bump in the park in the summer that will subtly lift everyone's mood without their realizing. A summer album...an album of ease. How did she know yet again that such an album is exactly what I need right now?
---
Molly Mary O'Brien runs I Enjoy Music and tweets here.