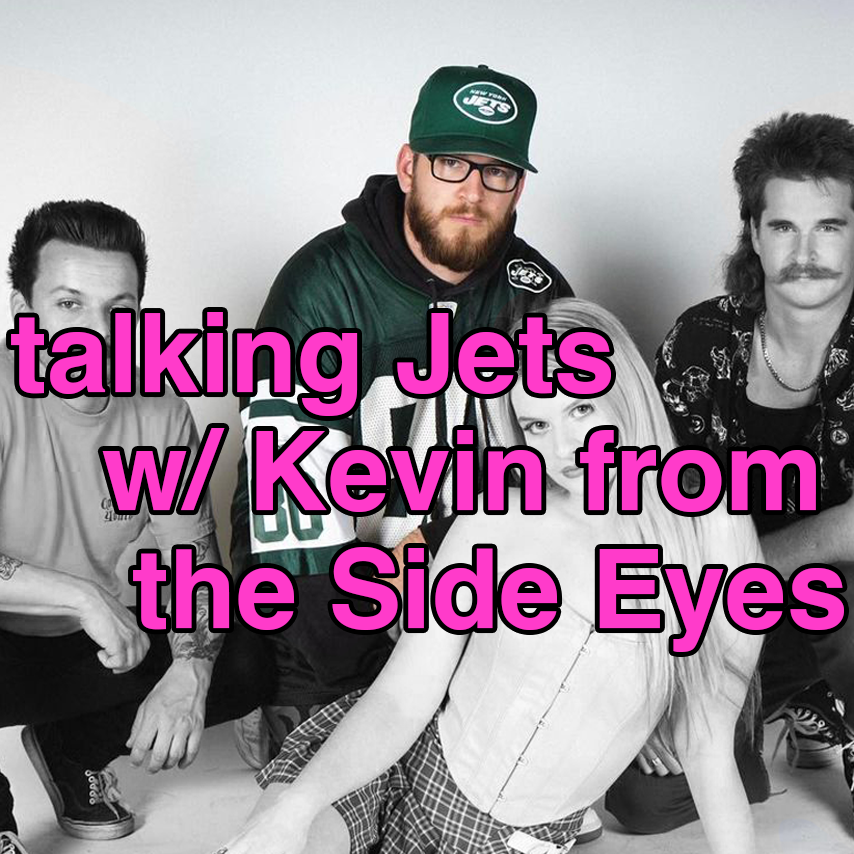 an interview with Kevin Devine, guitarist for The Side Eyes, about the New York Jets
While visiting the Frogtown Flea Market recently, I found myself sitting outside at Zebulon, sipping a delicious Diet Coke and scrolling through Zebulon's upcoming show calendar to see if anything looked groovy. One promo photo stopped me in my tracks: it was of The Side Eyes, a band of four people, all with unique and eye-catching style, with one member in full Jets regalia.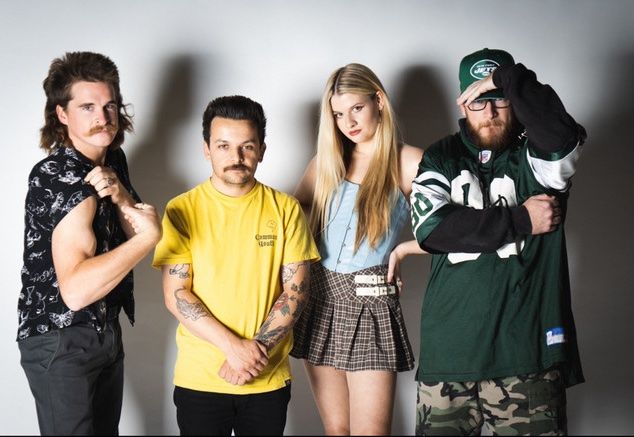 J-E-T-S JETS JETS JETS! I scream this proudly even though it's hard to be a proud Jets fan sometimes. My dad indoctrinated his daughters at a young age to root for the Jets, and at this point, I don't really consider myself a football fan, more just a Jets fan. To root for the Jets is to root for the concept of hope itself: hope we might win the Super Bowl again someday, hope this new QB doesn't flame out, etc. And even if we lose, we can always go eat a goddamn snack.
Anyway I messaged Kevin Devine, the Jets jersey-wearer who plays guitar in The Side Eyes, about his Jets (and Clippers) fandom and how it relates to his music playing. By the way, the band just released What's Your Problem?, a 19-minute brisk blast of SoCal punk, and it rocks, so go check that out.
---
What brought you into Jets fandom to begin with?

I was born and raised in North Jersey and I have baby photos in Jets gear from head to toe. My Dad's side of the family were big Jets/Mets fans and convinced me that rooting for the underdogs was the way to go. It led to a lot of pain as many Jets fans know, but my dad always said it builds character. Let's just say I have built plenty of character over the years!

I know heartbreak is a natural part of loving the Jets, but we have to cherish the good moments when we get them — do you have any especially treasured memories of going to Jets games?

Heartbreak and the Jets go together all too well, but not all the memories are bad (although I have seen the Jets lose by 30 two different times). When I grew up in Jersey I went to plenty of games at Giants Stadium from around 1998-2007 before I moved out to CA. One of my best friends had season tickets and I got to tag along and witness many awesome games. My favorite game I ever went to though was in 2009 AFC Playoffs versus the Chargers. My family and I drove down to San Diego and got to witness them complete the comeback. The win felt really good after all the smack the Chargers fans were talking. All the Jets fans rushed towards the lower bowl after they won and started the infamous "J.E.T.S JETS! JETS! JETS!" chant and I even got to high five a few of the players.

I see you're a Clippers fan as well and represent both teams in your stage gear. Have you always worn sports apparel onstage? Does it get any good reaction from people who come to your shows?

I always call the Clippers the Jets of the NBA. With so much heartbreak over the years it is hard to stay consistent cheering for them but both teams have very loyal, dedicated fanbases. To stick by a team when they don't win (sometimes ever) in the same city that has a winning franchise team in the same arena/stadium takes a lot of patience, though I am sure some would call it delusion. I love repping my teams on stage, because not everyone watches sports, but for the ones that do, it always sparks up some fun conversation or heckling. I have heard quite a few "Jets Suck! Clippers Suck!" heckles over the years, to which I simply respond "Oh, I know! I'm the one who has to root for them..." I have always loved how Jets fans have adapted to being able to laugh at themselves, it comes with the territory.

Do you think there's any connection between being a sports fan and a musician?

I do think there are some similarities to being both a sports fan and musician. Being a musician, you have to find ways to be creative and unique, and sometimes something as simple as representing your team, or your city's team is a cool way to add flavor to something that wasn't there before. When I play out of my amps that have my favorite sports teams logos painted on them, they sound the same as if the logos weren't there —but I can't help but think they sound even better knowing that rather than just being a speaker cabinet, it is now another visual aspect to take in from the band. I also have never agreed with the stereotypes that liking sports means you are "jocky" — sports are such a fun way to gather with people who share a similar interest as you, the same way a music fan would gather for their favorite band or artist.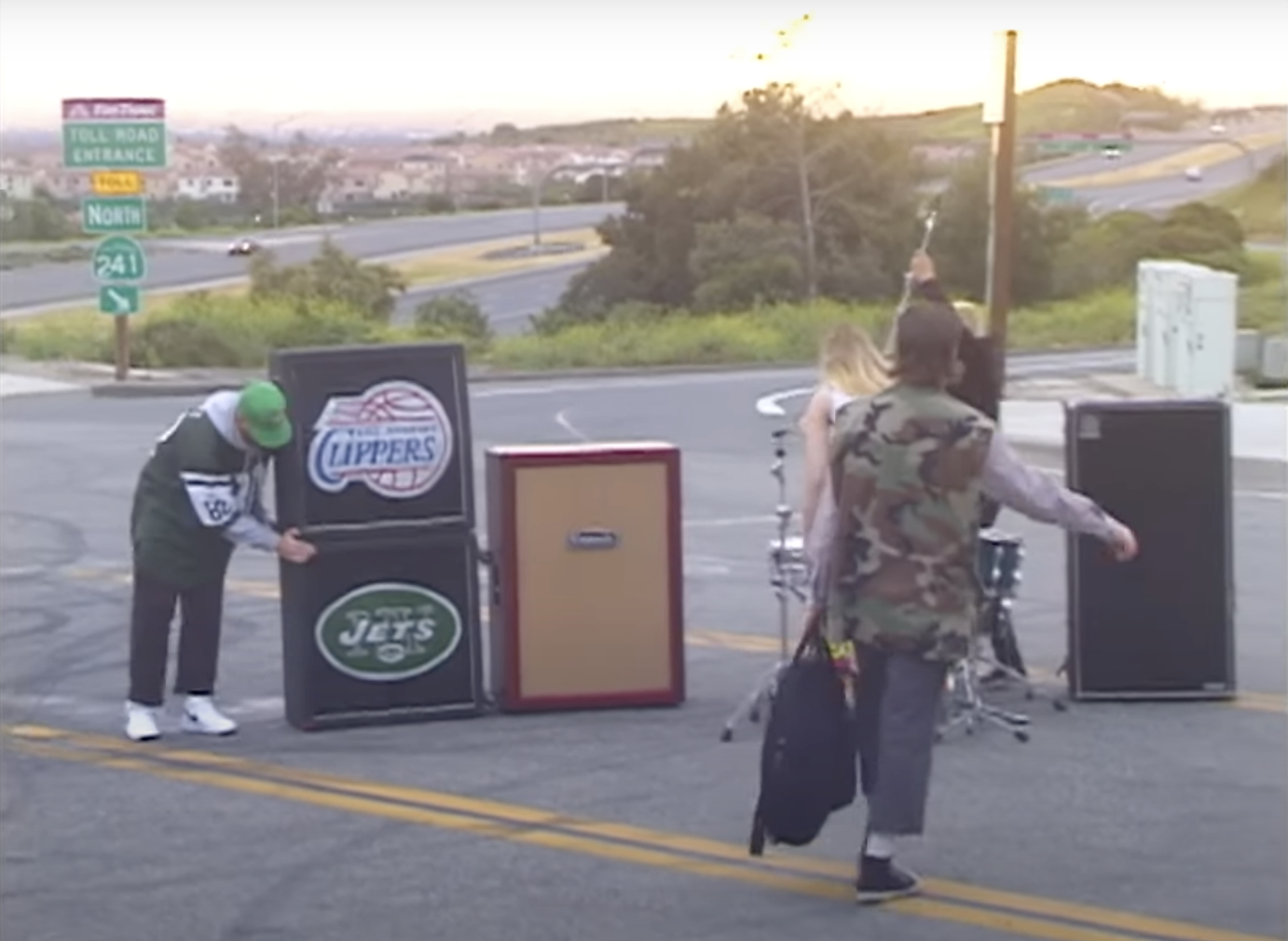 Last q — how is the album release going? Anything you're particularly excited about as you've been getting What's Your Problem? out into the world?

The album release has been great! We have gotten some great feedback and it feels good to finally have this music out. We recorded this back in 2019 with the intent to release in 2020, however Covid derailed everything (way beyond music), so it feels good that we were finally able to get this out into the world.