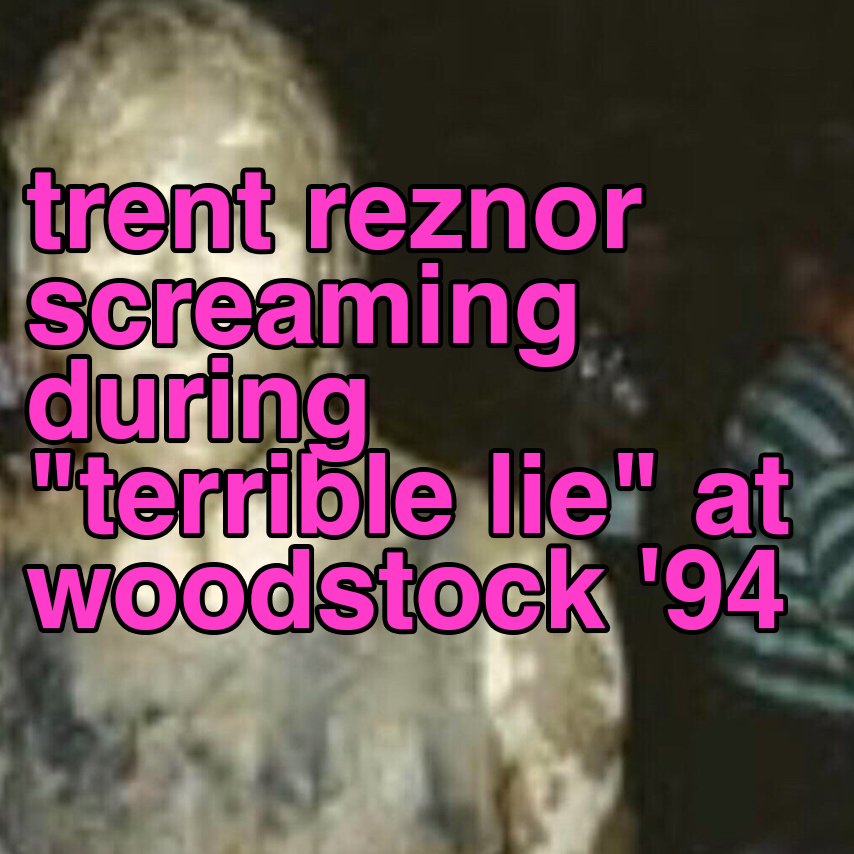 music enjoyer moment: trent reznor screaming during "terrible lie" at woodstock '94
We all know what music is. One way to think about music is "a collection of sounds that happen over the course of some period of time." But some of those sounds at certain periods of time are especially interesting, and this type of blog post — a music enjoyer moment— will highlight the specific moments of music that mesmerize me (and maybe you too).
To kick it off, here's a moment that has a special place in my heart. From Woodstock '94. That's right, they brought that shit back. For the 25th anniversary of Original Woodstock! Though it wasn't a logistical / ecological / scatological disaster on the level of Woodstock '99, Woodstock '94 had its share of problems, including security that was overwhelmed by gatecrashers, insufficient parking (apparently 8,000 ticketholders got turned away because parking lots were full, which is nuts, can you imagine the social media backlash if you couldn't go to a festival because you couldn't PARK), and storms that turned the Saugerties, NY festival grounds into a sea of mud (Mudstock). This mud supplied an impromptu wrestling opportunity for the members of Nine Inch Nails; already unenthusiastic about playing such a corporate event, they took the stage not just surly, but dirty.
Then they ripped everyone's faces off. My favorite bit of trivia from their '94 Woodstock performance is the band that played on the stage before them happened to be original Woodstockers Crosby Stills & Nash. Imagine enjoying a pleasant bout of folk-y, rockin', janglin' CSN....then the lights go down.....a series of loud, droning, crunching, wrenching noises plays over the speakers for a few minutes......and a bunch of mud monsters take the stage. Righteous.
The whole set is awesome but my favorite part — my music enjoyer moment — is the scream that Trent Reznor screams after the first verse of opening song "Terrible Lie." It's at 4:48 in this video.
God I love it so much. It's not a particularly musical scream, or a tuneful scream. It sounds both deeply feral and a little bit cartoonish. It sounds like he is being burned alive, but it also just sounds like he is saying YEEEEOOOOWWW!!! Nine Inch Nails are legendary for their industrial dance-ability and their "I wanna fuck you like an animal" sexiness, but I they are legendary most of all for this type of pristine pain delivery.
This is what Walt Whitman was talking about, you know, sounding barbaric yawps over the roofs of the world, only it's over the television sets of everyone who tuned into Woodstock '94 on pay-per-view. Thank you for screaming, Trent. Keep screaming as long as you want to.