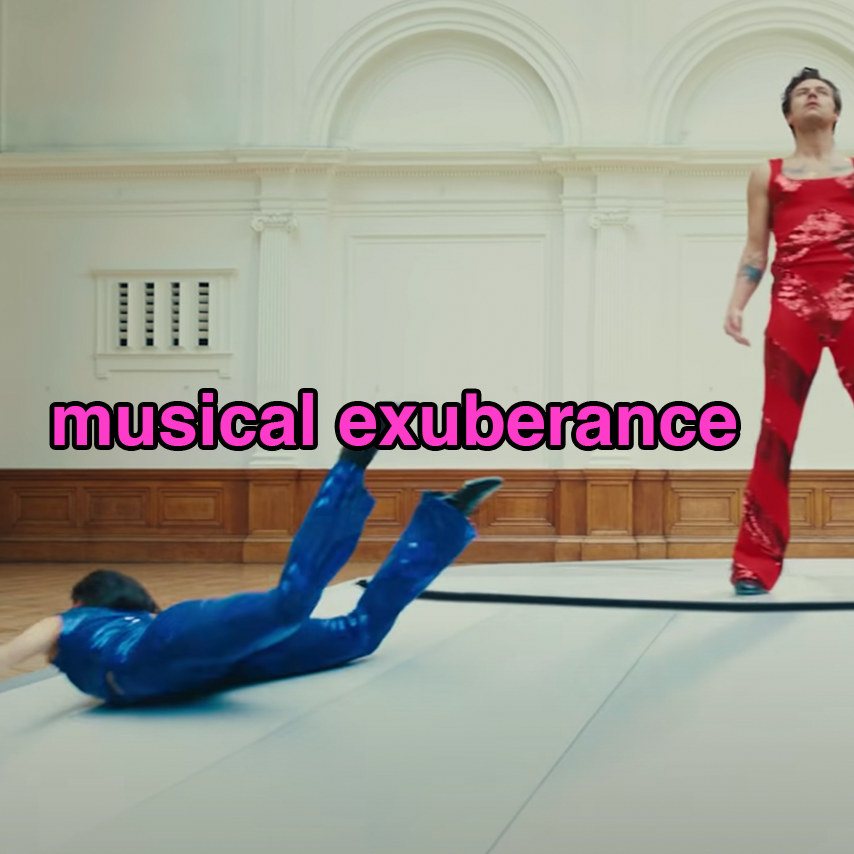 exuberant songs are classic songs
I was texting with my friend Matthew recently about Harry Styles. I was saying it was hard to imagine Harry putting out a song as horny in lyrical content and as aggressive in musical composition as "My Sharona" — our friend Sean's tweets about "My Sharona" recently put me in a Sharona spiral — and then we started talking about the Harry Styles song "As It Was," and I started realizing I have no idea what that song was about, and how it was supposed to make me feel.
It's been over a year since "As It Was" came out. The song was a smash. It entered the UK singles chart at number 1, it spent 15 weeks on the top of the Billboard Hot 100. It was inescapable. I liked it when it came out. I thought it was catchy. It went down easy. I had no follow-up questions. Now I have several.
Because there was speculation that the cute kid voice that opens the song — go on, Harry, we want to say goodnight to you! — belonged to one of Harry's now-ex Olivia Wilde's kids, the interpretation was that the song was about the deepening of his relationship with Wilde over time. Now, I never find it very interesting to assign 1:1 lyrical meaning to celebrity musicians' personal lives; even if I could, I don't know what he's even trying to say. And I don't think he does either.
"Nothin' to say / When everything gets in the way / Seems you cannot be replaced / And I'm the one who will stay." If you're staying, is this other person going...or also staying? Is this going or staying sad or happy? The NPR review of the track called it a poignant lyrical exploration of loss and loneliness.  I just don't know what's being lost here: his privacy? His previous lifestyle? An actual person? I guess you could say "As It Was" is a wistful song, and embodies the emotion of wistfulness. But I ask: wistful about WHAT?? Where's the beef? It's wistful about being wistful. A Xerox of a Hallmark card, an Impossible burger without the fake blood. What kind of pills are you actually on, dude? There are a lot of different types of pills out there.
In this world, it's just us. You know it's not the same as it was. What was it like before? What is it like now? Is it a good thing or a bad thing that it's not the same as it was? Go on, Harry, we want to know what you're feeling! We can't tell from his vocal delivery. In the video and in his marquee live performances, he dances crazily about in flashy outfits, but his singing is so smooth, so pitch-perfect, so sleek, that it's scrubbed of emotion other than composure. And the music, which many compared to "Take On Me" by a-Ha, doesn't quite have the deranged bounce of that '80s classic.
Revisiting the Teflon vibe of "As It Was" then reminded me of a tweet I saw a while ago, about Whitney Houston's "I Wanna Dance With Somebody."
EXUBERANCE! The emotional register of exuberance. Though I think Yates' take is a little extreme — Carly Rae Jepsen has put out three huge songs in the past decade or so that occupy the same emotional register as "I Wanna Dance With Somebody" — it's true that exuberance is in shorter supply than it used to be on the mainstream pop charts. Because when you display exuberance, you of course risk veering into corniness, and no one wants to be corny right now. Everyone wants to either be chill, or sad, or very angry. Not just being in love but being demonstrably thrilled about being in love: at a time when talking about how much you love drinking coffee in the garden with your husband gets you a bunch of hateful comments, wearing your heart on your sleeve is a gamble.
"Take On Me" is an exuberant song about seeking out romance. "Cut To The Feeling" is an exuberant song about seeking out romance. "I Wanna Dance With Somebody" is an exuberant song about seeking out someone to dance with, and also romance. And exuberance doesn't even have to just be about love. "Since U Been Gone" is an exuberant song about dumping someone. "My Sharona" is an exuberant song about wanting to fuck someone named Sharona. If you're exuberant, your instrumentation might come off as over-the-top, your voice might crack, people might get sick of your raw emoting. But I'd argue exuberance is one of the key factors that makes the difference between a hit song and a classic song.
What actually made me write this blog was listening to KRTH 101.1 FM Los Angeles (playing the greatest hits from the '70s, '80s, and '90s) and hearing the Cure's "Just Like Heaven." The head-rush pace, the opening SHOWMESHOWMESHOWME yawp...it's fast, loud and pure. Unqualified, exuberant romance. It came out 36 years ago and it still sounds new....it's classic rock. You can have a hit song being chill and aloof and gently wistful, but I don't know if you can have a classic song. The ones that stay on the radio for the ol' fossils must channel an energy that stands the test of time — same as it ever was.