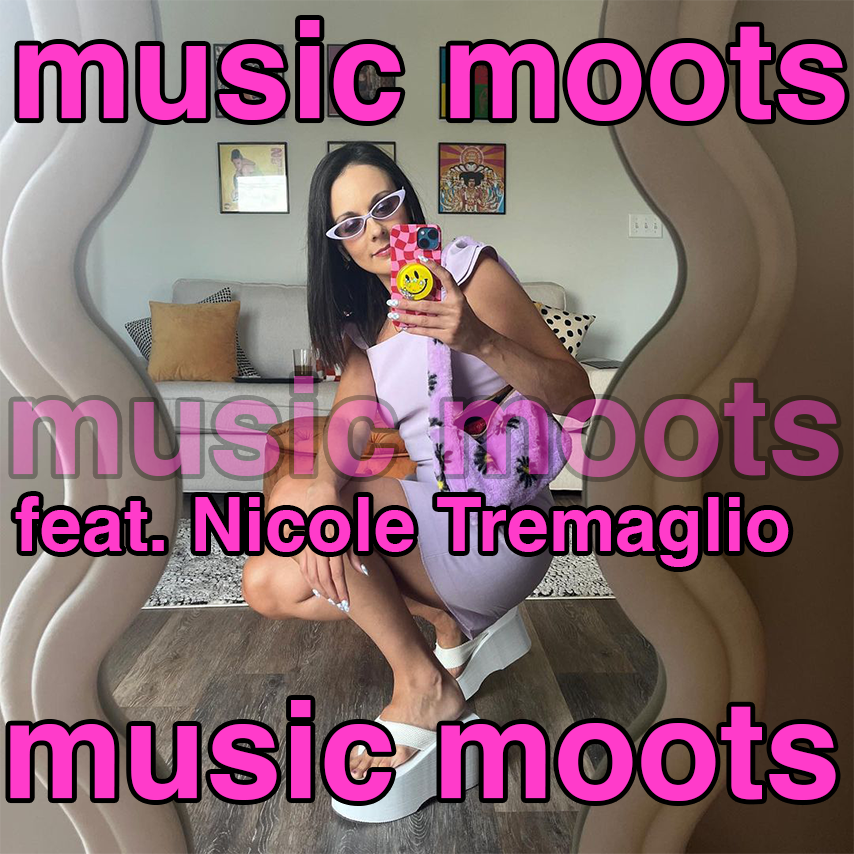 music moots: Nicole Tremaglio
A few weeks ago, I participated in this thing called Lonely Writers Club. It was organized by Metalabel — a "project establishing new ways for creative people to release work together and support one another" — and I'll explain how I found LWC to begin with in another post because I think it's a neat story of being down to hit up random strangers about cool shit that they do...........regardless, all you need to know in this moment is that Lonely Writers Club met up a few times virtually to talk about the joys and struggles of being DIY/independent writers, brainstorm new ideas, figure out how to collaborate, etc. It was run so well, and the group was so enthusiastic, and I had an amazing time!
A bunch of Lonely Writers Club participants connected mid- and post-Club on Discord and that's how I e-met Nicole Tremaglio. Nicole is yr classic internet-native multihyphenate — she has a newsletter, a podcast, and an incredibly sick website where the mouse cursor is an old skool '00s cell phone. She traffics in nostalgia (or rather, Nicstalgia) for the super-potent 1990s-to-Y2K moment, specifically focusing on how technology and pop culture influence each other.
After connecting post-Lonely Writers Club, I knew I needed to ask Nicole for a Music Moots™ rec (for those who are new, this is where I ask someone I know either from online or 'in real life' for a song recommendation, and then listen to it and write about it). And her recommendation did not disappoint — she suggested "Venerdí" by Baby K.
"Venerdì is an unapologetically bratty Italian pop song about a Friday night of pure debauchery. My favorite line translates to, "Be yourself, but not too much; people are judging."
It was my anthem as a 20-something in downtown Manhattan — resisting and resenting society's expectations, knowing you'll make mistakes but being generally indifferent to the consequences, feigning emotional availability, and becoming your own kind of imperfect hero."
Oh this is a BOP bop. Ever since Max Martin put the broken guitar in Kelly Clarkson's "Since U Been Gone" — which, if we're talking about nostalgia, was released the day before my fifteenth birthday, and what a time THAT was to be alive — I have been fairly addicted to what I'm now designating as "fake rock" songs. This doesn't mean "pop rock" or "power pop" or even "pop punk." Those all have their own genre tells. "Fake rock" throws in the crucial element of a distorted guitar and maybe some prominent snare drum into what would otherwise be a typical quantized synth-oriented pop tune.
The goal is not to "rock you" (a la Queen). The goal is to signify rockness, skimming a little rock off the top, just a dollop of rock will do ya. There are no questions of authenticity or whatnot. There is no gatekeeping of guitar tone or "chops." We all know what's happening here. The essence of rock is enough to take the pop song over the top.
Another example of a "fake rock" song I love, just off the dome, would be Miley Cyrus "See You Again." Fascinatingly, "fake rock" songs translate seamlessly into an actual rock band experience when performed live!
Wait no. "Fake rock" doesn't feel jazzy enough. How about.......Rock-l'œil?
Anyway, I love "Venerdí." I love the energy, and I love the shout out of a particular day of the week: Venerdí, aka Italian Friday. To me, a perfect pop song names all seven days of the week (an old fave would be "7 Days" by Craig David; a recent great find is "Seven" by Jung Kook featuring Latto) but Friday is as good as you can get for an individual day shout-out.
I ran the lyrics through Google Translate and I think my favorite lyric is "ciò che non mi uccide me la suca" which seems to translate to "what doesn't kill me, kills me." After this particular Halloween party weekend, I think I would agree. Reminds me of this tweet I saw recently:
Baby K is okay with a little party punishment. She sings that she wants to empty the entire minibar and leave the night in bandages! Damn girl!!
Thank you Nicole for the great rec. I especially want to cover more non-American, non-English-language music and this was a great reminder to do just that.
---