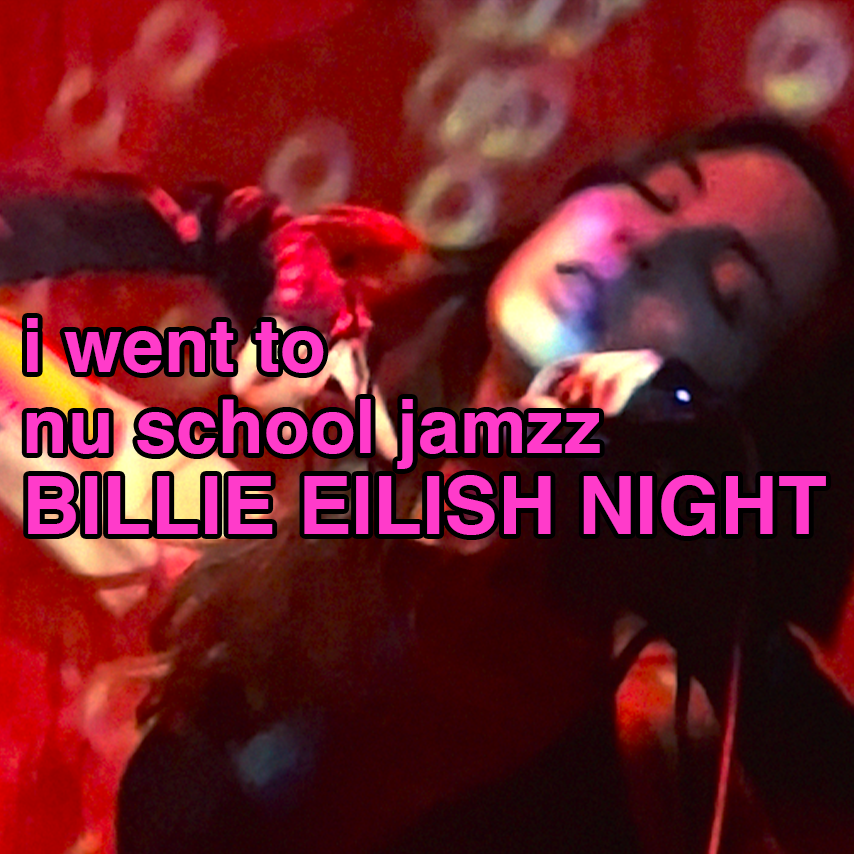 a night of jazzy billie eilish covers at Nu School Jamzz
If you've ever met me in real life, especially out on the town, you know that I am a chatty Cathy. I can really chirp when given the opportunity. Several weeks ago, I found myself at a local Los Angeles watering hole that has regular Friday night disco parties, and I stayed until the DJ stopped playing, and then I started talking to the DJ about DJ-style things, and the DJ was telling me about DJing at Cinespace parties in the late aughts and seeing the legendary (to me) DJ AM / Travis Barker 2009 Coachella set, and then the local watering hole was closing, and when I introduce myself as a music blogger, one of the people who was tending bar said "Oh you're a music blogger? You should come to the jazz night I put on!"
And you know what I said? "You bet your sweet bippy I'll come to your jazz night." Just kidding, I didn't say that. But I did go.
This jazz night is called Nu School Jamzz. Two Zs! Omg all the Zs pleaze. It's a regular happening put on by Mad Maven, aka Nikia Lee; each Nu School Jamzz event focuses on a different popular singer, with a jazz band backing up a rotating cast of vocalists who put a jazzy spin on said singer's songs. The one before the one I went to was Beyoncé, the one after the one I saw was a special Lady Gaga Halloween edition, and the one I actually saw was the baggy-shorts-wearing, spider-covered jeune chanteuse Billie Eilish.
I went with my friend Jessie. Jessie and I were both NYC girls, and she's been in L.A. for a while now. The last time I saw her, we were talking about the nerve-wracking freeway driving that an L.A. residency requires, and she recommended taking the bus to shake things up. So I took the bus to Hollywood, all the way to Grandmaster Recorders. Please clap!
The room was psychedelically lit and the sound was crispy. The night kicked off with an extended jam led by Jay Flat, who was doing a combination of DJing, MCing, and playing icy-smooth saxophone — the band, sans singers, played "All the Good Girls Go to Hell" and "Therefore I Am." After about a minute of the first number, I realized a good jazz band is worth its weight in gold. Actually I googled "most expensive metal" and it's apparently rhodium. This jazz band was worth its weight in rhodium! Snappy drums (Channing Cook Holmes), sterling synths (Andre Bernier), soaring guitar (Luke Villegas), salacious bass (Jojo Faught) and of course the sax. They were cooking.
(I just looked up Jay Flat and he played in the horn section of Harry Styles' 2022 Coachella band, and also on Usher's Tiny Desk concert. Holy cow, those are some serious saxophone co-signs.)
The singers were equally electric. We stayed for the first set and heard jazzed up versions of "Bury a Friend," "Bellyache," "Lost Cause"...the vocal talent and general charisma was unreal. My personal favorite was "Happier Than Ever," a song I absolutely lost my shit over when it came out two years ago. This is a message direct to Billie Eilish, if you're ever out there on the blogoverse reading random blogs: Billie. Hello. "Happier Than Ever" ROCKS...do not be afraid to rock out..you don't have to SAY you're making a "rock album" because I feel like that never goes well (I mean, just look at Demi Lovato's last album) but just do it...everyone will love it.
The best lyric on "Happier Than Ever" is "I don't relate to you." I'm obsessed with that lyric. 70ish years of American pop music and I don't know if anyone has ever put an ex in their place by saying I don't relate to you. It's the lyrical equivalent of moving someone directly to trash. If you don't relate to someone, the idea of having a sustainable relationship with them is out of the question. You're not on the same page or even in the same library. It's devastating. That guy she was singing about should feel very upset.
Major shout out to the singers I saw that I was able to scoop from the event IG tags: Sofia Loporcaro, Chandler Leighton, Lia Farrington, Claire Shaner — I was blown away. Los Angeles is filled with more talent than I can even rotate in my mind and it was a pleasure to see even a smidge of that talent at such close range. Having seen a Nu School Jamzz, I need to start trying other hyperspecific local music events — I have heard that Tuesday Bluegrass Night at Bigfoot Lodge is supposed to be sensational.
---
Follow Nu School Jamzz on Instagram and go see a show if you're in L.A. ☺