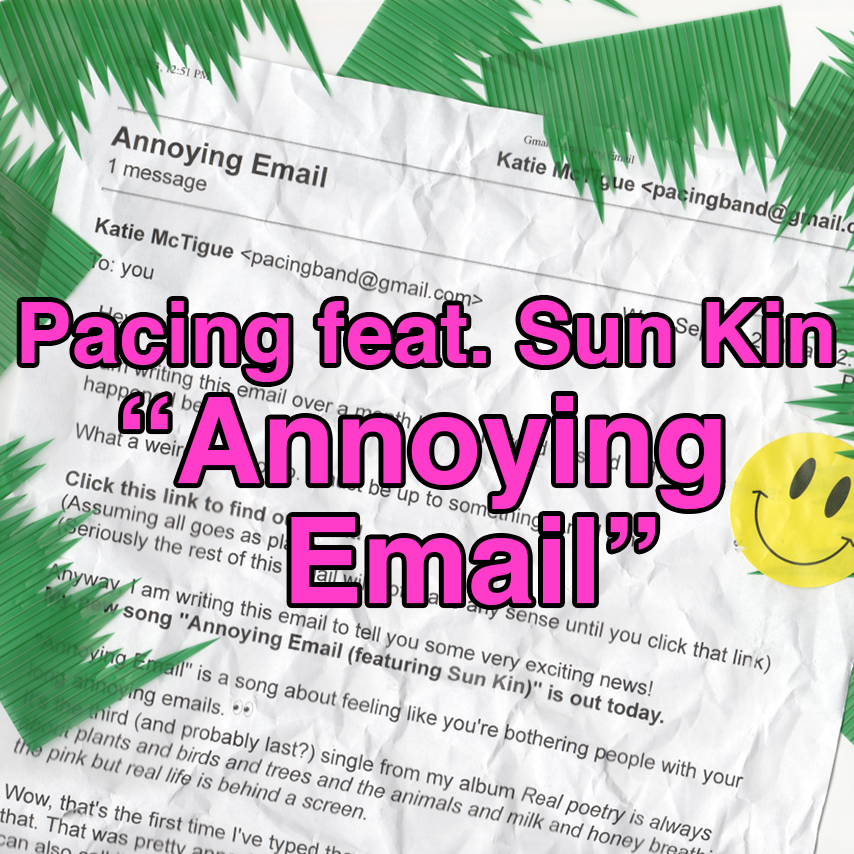 Pacing feat. Sun Kin, "Annoying Email"
If you have been reading I Enjoy Music even just a little bit, you know I'm a fan of Pacing (aka anti-folk revivalist Katie McTigue) and of Sun Kin (the solo project of in-many-different-bands Los Angeles melody maker Kabir Kumar). I recently interviewed Katie over a game of internet chess in which she very elegantly kicked my ass; I also went to a Left Tracks show that featured Kabir and did a "show report." We're blogging here.
Now in the grand tradition of "two great tastes that taste great together," we have a Pacing / Sun Kin combination situation. They're putting out two singles featuring each other for their "Resignation Week", and the first one is out right this second, and it is called "Annoying Email." And "Annoying Email" is the last single before Pacing's second album comes out on October 13th. This album is called Real poetry is always about plants and birds and trees and the animals and milk and honey breathing in the pink but real life is behind a screen. As a lifelong Fiona Apple stan (what is her stan army called? The Apple Cores? Apple Jacks? Apple Crisps?....) I am always a fan of a long album title. If it fits (on a CD booklet), it sits.
"Annoying Email" is about sending annoying emails! It's not a metaphor. Or is it?? There are references to 'circling back' and thanking someone for their patience which, on their own, might send me into a recovering office worker K-hole...but the music is so pleasant, it feels more like a soothing balm than a "as per my last email" digital detonation. Over a loping bass line, the whisper-sung question "Is anybody mad at me?" receives a weak chorus of "wooo!"s in response. According to a non-annoying email Katie sent me to herald the release of this single, the original version of "Annoying Email" only used synth bass before Kabir's extra instrumentation came in. Oops All Bass.
Now here's your job, if you haven't yet resigned for Resignation Week. Listen to "Annoying Email," look out for the second Pacing / Sun Kin single (which is called "Dreams Die" ) on 9/21, and also pre-save the new Pacing album. Those are your tasks for the day. Now I'll stop telling you what to do...until I circle back, that is.