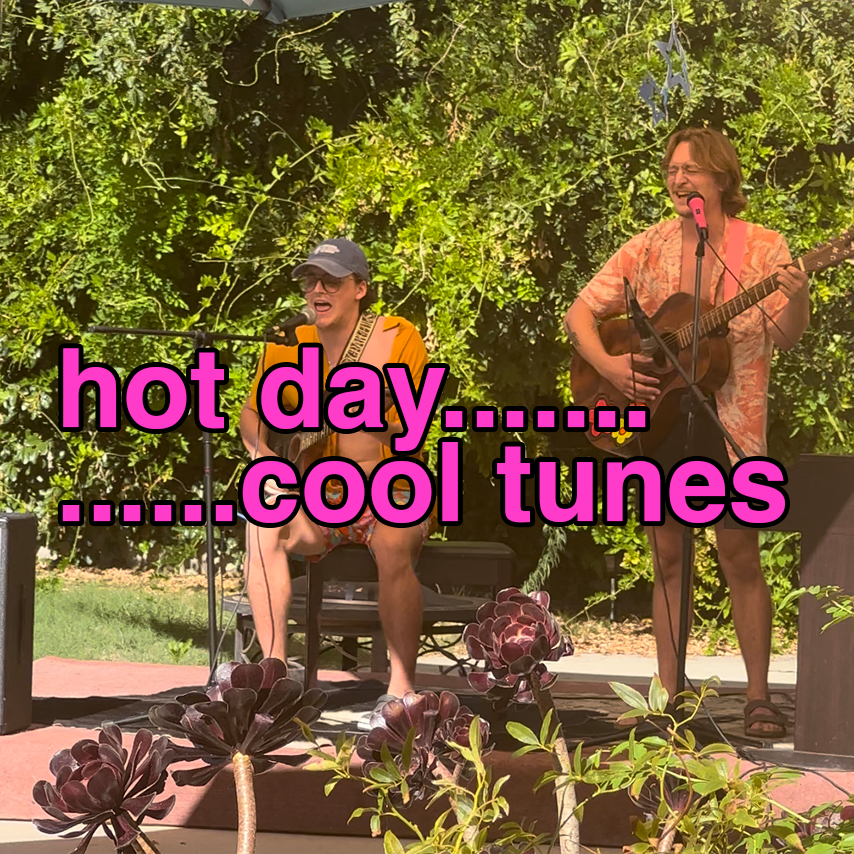 an epic musical day feat. sunday brunch dinner club + happy sundays fest
The haters told me, "Molly, you can't go to three different musical events in three different Los Angeles zones in one day, plus get lunch in the neighborhood, AND do your laundry." The haters were so wrong.
I awoke on Sunday with a surprising amount of zest. Maybe I'm still coasting on new city arrival energy, or maybe, like Lorde, I am solar powered, but regardless, I committed to a wild schedule and was raring to go. First stop was the Hermosillo in my neighborhood, where I enjoyed a Reuben sandwich imported from nearby Jeff's Table ("a modern micro-deli") and caught up with a friend.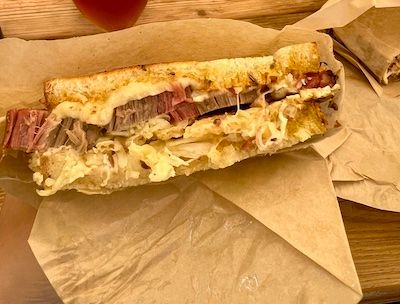 Then off to North Hollywood for a poolside open mic put on by Sunday Brunch Dinner Club.
car music interlude: Matthew Perpetua's "Flux Focus Trax Summer 2023" playlist, so songs such as the deeply odd psychedelic R&B tune "Number 9" by Miguel featuring Lil Yachty, witch house-y throwback "It's Goin Bad" by Snow Strippers, and monogamous cannabis slow jam "Moonlight" by Kali Uchis
I went with my friend Nick, who plays in the band Atlas Engine (for whom I have shot various video things over the years); we are both NYC-to-LA transplants, confident that our New York hustle mindset (which sometimes consists of nothing more than agreeing to go to an event, and then actually going) will forge our paths to success.
Sunday Brunch Dinner Club's event occurred in a beautiful, dare I say sprawling, residential backyard with a pool. Boogie Nights is a documentary. The setup was rich with activities: beyond the swimming and open mic tunes, there were tarot readings and tattoos to be administered, vintage clothes and artwork for sale, a bar serving reasonably priced drinks…I arrived at the peak of the day's heat, which according to a website I just looked at, was 97° Fahrenheit. And I didn't even mind it, because the vibe was that strong! I'm always interested in the blood-sweat-tears work that actually goes into creating community, and Sunday Brunch Dinner Club creators Beverly and Isaac were putting in the work, with excellent vibesmanship that encouraged lots of mingling.
I caught mini-sets from the crystal-clear-voiced Maggie Glass...
..And Nick LaDue, who plays folk music as sandalwood...
And shortly after a phenomenal cover of Flight of the Conchords' "The Most Beautiful Girl (In The Room)", I dipped, because I was going to Long Beach to catch a little bit of a free all-day multi-venue festival called Happy Sundays.
car music interlude: more "Flux Focus Trax Summer 2023", which seemed to get headier as the playlist progressed. Standout tracks include "Slate" by Model/Actriz, who are so good at being arch and bone-dry but still very sexy…they kind of remind me of Placebo? and "Shiver" by Fever Ray, which was weird and trance-y and perfect for getting a little stuck in traffic…
It was my first time in Long Beach, the city that has given us musical icons like Sublime, Vince Staples, Frank Ocean…wow, it just occurred to me that Frank Ocean is from Long Beach, AND he's a double Scorpio. Water everywhere around that man — no wonder he wanted a big rink of frozen water at his Coachella set. The mood was lit as an assortment of beach punks walked up and down Anaheim, or were carted around by complimentary double-decker buses.
I met friends James and Cat at the Bamboo Club, a tiki bar that had a slightly ramshackle outdoor stage, a smattering of picnic tables, and a stand slinging fragrant hamburgers and hot dogs. It was crowded, and I enjoyed some light people-watching and trendspotting: Long Beach in the summertime seems to be all about the tie dye shirt and tactical sun hat.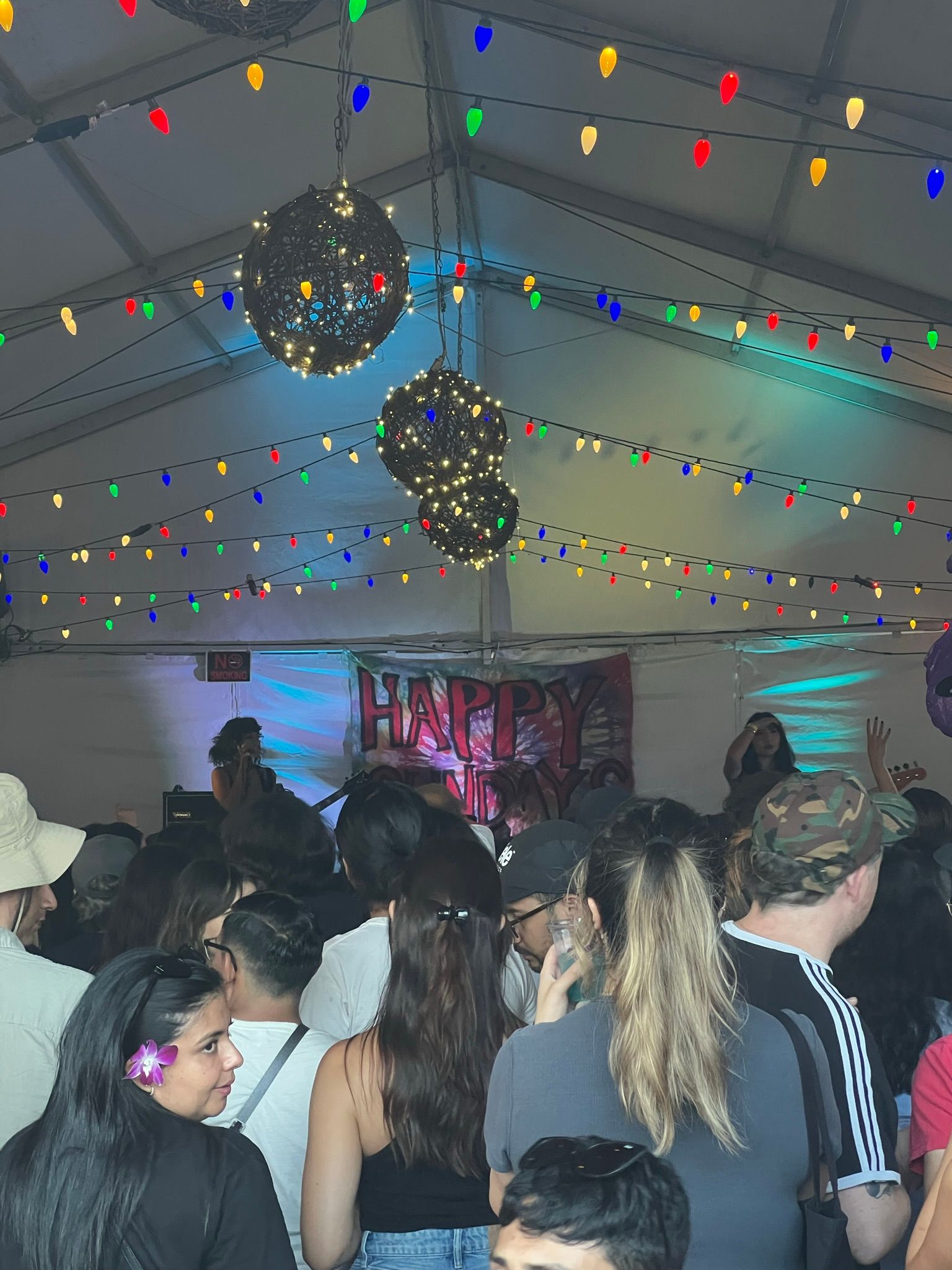 The only set I caught was L.A. Witch, and they sounded awesome, even from the back of the tent. Simple, straight-on, and focused. I'm not saying sun-toasted psychedelic rock DIDN'T make sense back on the East Coast, but out here, it merges with the atmosphere in a way that makes me understand why it exists to begin with. For example, I had been a fan of Osees for a few years, but didn't unlock their full potential until I blasted "The Dream" on a drive from Joshua Tree to Las Vegas. Just something about being in a cactus-friendly environment, I guess.
After sampling the wares of the fest, it was time to get back in the car and drive to Los Feliz to do karaoke at my friend Matty's goodbye party.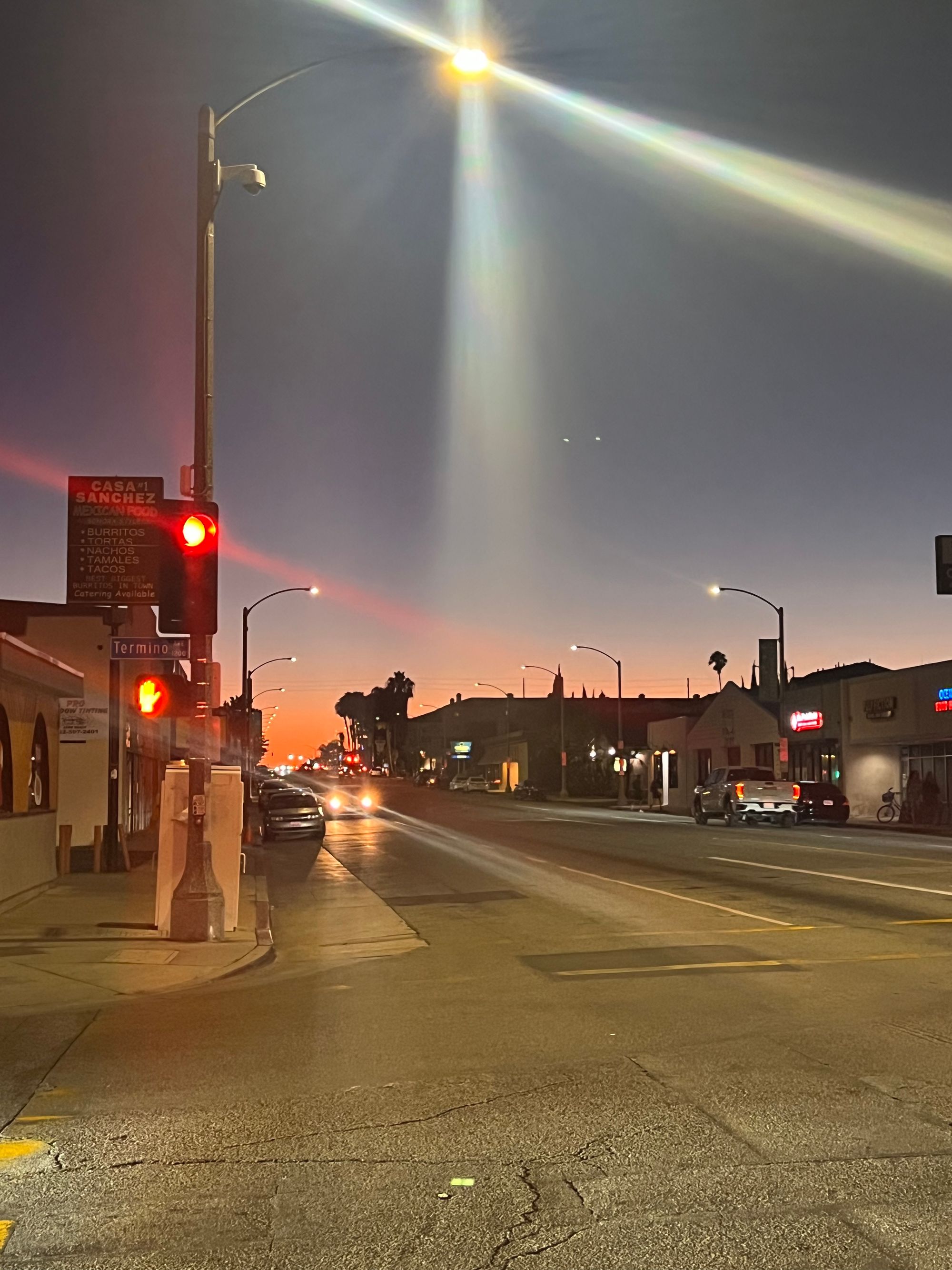 car music interlude: i somehow found myself in a St. Vincent mood and put Masseduction on high volume. i think this is my favorite album from her. i saw her at two different festivals in this era, and she was just brain-melting. she kept changing guitars in an almost ceremonial way, like Catholic mass…"Fear The Future", underrated!!
Matty is someone I met through podcasting — he came on And Introducing to talk about Scott Walker, then Chris and I went on Indieheads a few times (I was most recently on there to listen to LMFAO for two hours straight) — and though we're passing like ships in the night in LA, I've already met + dug a ton of people through Matty through Sunday karaoke nights at the Drawing Room. I knew from the first time I went that it was the ideal karaoke setup: 1) actual dive bar, cash only, World's Heaviest Pours; 2) some of the crowd is there for karaoke and some are decidedly not, so you can more or less sing whatever you want and not worry about impressing people, 3) you can request songs on your phone and also see the full queue in advance, which is something I adore, as a bit of a control freak on a leash.
Matty sang "Lips Of An Angel" like an angel. There were at least a couple videos from karaoke hero Lemmy Caution on the board over the course of the night, including a killer rendition of "Operate" by Peaches.
I sang "Butterfly" by Crazy Town, keeping up a terrible habit I have developed this summer of doing an "evil laugh" during songs that have evil vibes (previous songs include "Look What You Made Me Do" and "Welcome To The Jungle"). The most interesting thing about karaoke is that it gives regular people the power of the microphone, which is a curious power wielded much in everyday life…sometimes the urge to do a bit is too strong and I succumb.
Having not dined since my noontime Reuben sandwich, I closed the night with a Del Taco burrito (photo unavailable).
fin