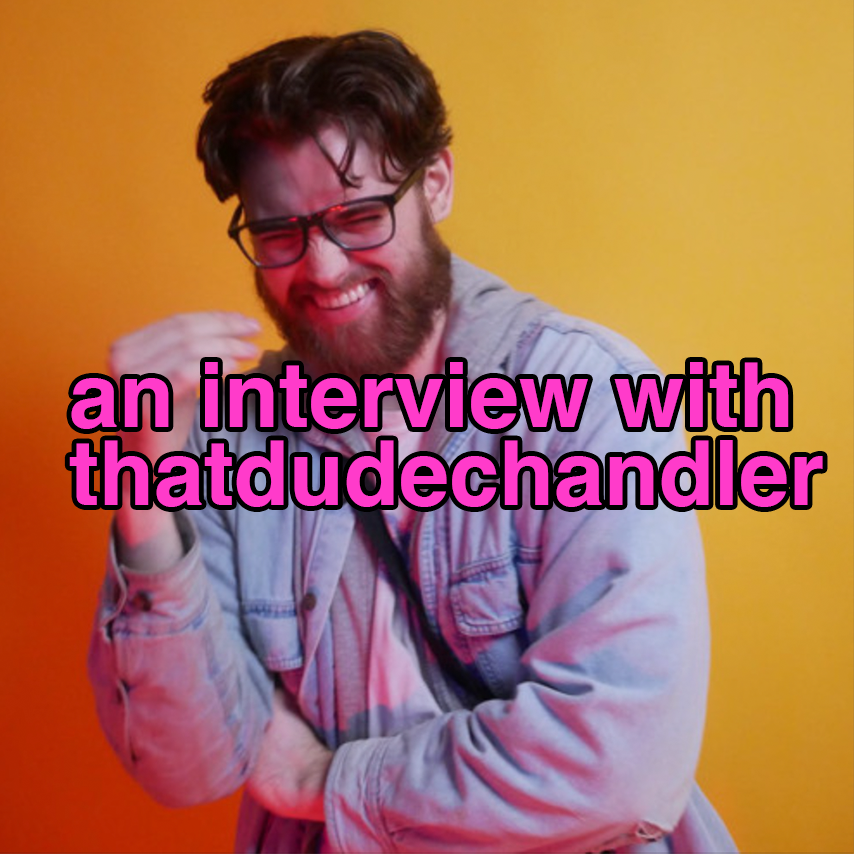 an interview with thatdudechandler, a rapper from st. louis with a psychological flair
The interviews I do for I Enjoy Music continue to surprise and delight me! Today we have a little chat with Adam Chandler, aka thatdudechandler, a rapper from St. Louis whose early love of Eminem has influenced his highly lyrical and conceptual output. Past projects of his include a sick Batman-themed album (Adam Wayne), and a heady collaboration with two other St. Louis producer/rappers (Fiiit8pe); he's now working on a new suite of EPs that delves into psychoanalytic theory.
It was awesome to talk to Adam about his love of performing live, his musical friendships, and the compulsion to create deluxe albums just to fit more songs you like onto them. Below is the interview, lightly edited + condensed...
---
So you're in St. Louis? What are the vibes there?

I used to make music in middle school. 2018 is when I started college. That's when I started making music again. And so I moved to Columbia [Missouri], and came back in 2020. So it feels like I am not a part of this "scene" because I feel like I've been so fresh to it.
But it is beautiful, because about five years ago, it would be about two people that everyone would know. If you said "my favorite artist from St. Louis" it'd be Nelly and it'd be Smino, and that's it. But it's just been such a renaissance lately. There's a lot more artists that are actually breaking the mold and doing really cool things. It's very reminiscent of Chicago, that sort of style, but it's a little more Southern.

Does the heritage of Nelly still loom large in St. Louis?

Always. It's always Nellyville around here. Lately it's been a lot of Sexyy Red and Big Boss Vette and Smino. But I think everyone that makes music is always like, Nelly, that's the all-father of St. Louis.
Well, I'd love to take it back to your musical history — I know you just said that you started making music in middle school. What inspired you to start rapping?
I have always been listening to rap. I was in middle school at the dawn of YouTube, so a lot of the music that I found was through there. I wasn't born into the blog era, but that's where I really started getting my foothold on finding the stuff that I loved. Before that, it was Nellyville and it was Eminem. My mom was like, I'll let you listen to this. I had a CD player with The Eminem Show and Nellyville. It's kind of wild because I can still see it as an influence on the music I make now. I've always loved the lyrical side of things, but I wouldn't say as drastic — not serial killer or murder vibes. I love the poetry aspect of it.
Yeah. It's funny that that was Eminem's early thing. Now I feel like he's outgrown it, but it was certainly the most interesting thing he's ever done, in a way.
Especially listening to it now, a lot of it's pretty dated, but I could see why it was so great at the time.
And then in terms of where you've ended up — how did Fiiit8pe come together? Because that was a collaborative album with two other artists, right?
So the other guys are Nenjavo and Zsurrr. They're actually twins.

Oh cool!
I don't know why, I feel like that's like a selling point. I always have to tell people. They're my best friends and I met them in college, around 2018 or so. We met at a local community college where there was a play going on — The Crucible — and I was there for extra credit, and they came in and we kind of hit it off after the show. They're probably the best friends I've ever had. We have definitely grown together.
They had been making house beats, and when we met, I was like, We should make music. And so we worked on the beginning of Fiiit8pe. Then I moved to Columbia, so we stopped working on it until I got back, and then we finished it in March of 2021. It's been something we've wanted to do for a long time, just not had the means to finish it.
When we started working on it again, we thought we should just redo a lot of it. A lot of times, they would re-sample the original beat, which was really cool to watch them do. It's stuff I would never think to do. They are the best beat makers I know, the best producers I know.

How long does the average verse take for you to write? Is it same-day or do you tinker with it for a long time?

I've always written in a stream-of-conscious way. It's never deliberate. It just feels like the best way to get things out. When I finished my last album Adam Wayne, my solo project before Fiiit8pe, I took two years to really craft it. All of it had a very concentrated meaning, everything had a purpose. After that, I was like, I don't want to fucking do that. I just want to have fun.
Over the past few years, I've been just collecting things with no purpose or expectation for it. I just wanted to make things. This [upcoming] album, I just want to make sure it's the most fun project I've had, while also being serious and purposeful with it. And I'm trying to not touch anything else, or else it's not going to get done!

Is the temptation strong to dabble in a bunch of different projects? I imagine there's a lot of opportunity for that.

It's hard because I've been producing a lot more and finding my own style as a producer, which feels completely different than my style as an artist. My production style has been inspired by JPEGMAFIA, sort of gritty, almost industrial. I love sampling, but I've been trying to figure out unique ways to do it that it doesn't feel like that person's beats. But as I've been trying to have fun with that, I make stuff and I'm like, Oh, I have to use this on the project. I keep planning, like, "This can go on the deluxe album."

It's funny to think that the rationale behind deluxe releases is is "I have all this stuff and it needs to go somewhere."
It's hard. I have the finished tracklist, and I try not to touch it, because I know if I do too much, it's never going to end.

Do you perform live around the city at all?

As much as I can. I've had the opportunity to do really cool stuff the past year. This whole year has felt the most "real" in terms of considering music as a career. In St. Louis there used to be a huge festival called LouFest every year. OutKast performed one of the early years, it was crazy how many huge people were there. Unfortunately I think they went bankrupt in 2019.

Now there's a new festival for the past three years called Music at the Intersection. And there's a local artist named Mvstermind who is amazing. He is the most professional and outward-looking person I've met. In the local scene, it's hard to find people that really, truly want to give to others. I'm very blessed to have met him. He threw an artist bootcamp in St. Louis and then whoever wanted to could perform at Music of the Intersection. And so I performed at the festival and I was ecstatic. To add that to my resumé so early on was amazing. And I've been able to play local bars and stuff, which I love. Performing is my favorite part.
Oh yeah?
I was in theater as a kid. I don't know, there's something about performing that just is fun. It's like a game.

How do you prepare for a performance? What goes through your mind before getting on stage and doing something like that?
Nerves is always what people think of, but I love that. I assume it draws back to theater somewhere down the line, psychologically. It definitely is fun when you know everyone's looking at you, and they're expecting something. I don't fold under that pressure, and I love it, and it kind of fuels it to make it a better performance.

I rehearse everything, like down to the conversations I want to have with people at the show onstage. I talked to some of my friends recently and they said they liked doing everything on the fly. I could not do that. That sounds like a nightmare. Even in my daily life outside of music, I micromanage a lot of my stuff. Everything is in my calendar. This interview's on the calendar.

[laughing]
I'll be in my little studio at home and come up with ideas: That'd be fun to do a little crowd chant of that, a little participatory thing. I rehearse it down to the T.

I totally feel you. You never know what is going to happen, so you might as well have at least something locked in. So what are your plans for the new album?
This album, originally I was planning and releasing it September through November, and that fell through. I received a grant — the Regional Arts Commission gives out grants every year to artists in the local scene, and I was very blessed to receive one. It's going towards this album. I'm excited because it feels like the most "me" album that I've made. A lot of the other stuff was like me trying to figure out how to put all my favorite things into a project, but now I want to figure out how to make music that feels like me and not like a character.
Do you have a working title or anything that you're mulling over?

Definitely. I love psychology and the idea of the unconscious and the conscious. I was obsessing over that in my head, thinking it'd be a really cool idea for a project. Each song fits in the album as a different point in time, a different version of me, so it's gonna be called Freudian Thoughts.
Hell yeah.
And I'll add Volume One on there because I like having open-ended things where I could revisit it later. It's based on Freud's theory of consciousness, so it'll have id, ego and superego: three EPs, a couple of songs on each one.

Cool. I love that shit too. I'm constantly wondering which part of my consciousness is acting on any stimulus at any given moment.

It's interesting seeing it in real time in music — albums that delve very heavy into that theory and that idea, like Kendrick's album, Mr. Morale [& The Big Steppers]. I love those conversations. I have my degree in teaching, and a lot of that degree is talking about child psychology, that sort of thing. I definitely love talking about it.
---
Now that you've read the interview, you simply must check thatdudechandler out on Instagram, Bandcamp, Soundcloud...you know the drill.