It's time for a new edition of Three Music Thingz, where I ask musical artists to share three things (thingz) that are essential to their music-making. Music is not made in a vacuum. You need thingz to make it.
Today we have Devon Thompson sharing her three thingz! Devon is a Los Angeles singer-songwriter whose tunes are as dark and smoky as a haunted house on fire. Her latest single, "So Close" dropped last month and it reminds me a ton of early 1990s back-to-basics bluesy rock: walking bass line, murky guitar stabs, simple and plaintive vocals. It's a little bit PJ Harvey, a little bit the Kills...and I can't get the vision of Chris Isaak out of my mind either? I dunno, it's so moody and soaring, it immediately transports me to a seedy bar where some stranger's cigarette has been forgotten in an ashtray, placed in a permanent state of indefinite vaporous suspension...a vibe for sure. Hey bartender: a double whiskey please, and uh, leave my tab open.
Read on for Devon Thompson's three music thingz, in her own words:
My Epiphone Casino
Until I got my Casino, I never really knew if there was a guitar that fully fit my sound. Or even a guitar that I cared about that much. When I finally got my Casino, it was like something finally clicked. It has such a massive expansive sound– able to fill the space of 3 guitars. Playing in trios mostly, it's the perfect guitar for me. Not only is it the perfect rhythm guitar, but it makes my leads sound amazing too.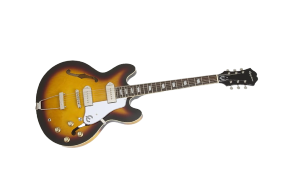 Pinterest
As random and frivolous as it may seem, I can't live without Pinterest. It holds the mood and landscape of all my music's visual and lyrical themes. If I am writing a song, and I want to create a universe around it, Pinterest helps me create a world with images that I can organize in folders. Every song of mine is different, and has a different folder. I am a very visual artist, so it's amazing to have a tool like this. Also, it has such niche and specific user-curated images on the website, unlike any other. There's so many images that I can easily relate to in terms of aesthetic and feel that help me draft music videos for my songs.

Dark/Light Concepts
One main concept that I most commonly write about is concepts and themes that have both a balance of dark, and light. Whether that's a dark concept but lightened with humor, or a light concept but there's a dark side to it, I always need the yin and yang concept in my songs. Tongue-in-cheek is a writing style I use often that uses both light and dark. Without using dark/ light concepts, my writing feels dull, so it is definitely something I can't live without.
---
Get into Devon Thompson's "So Close" here. And check out her Linktree!