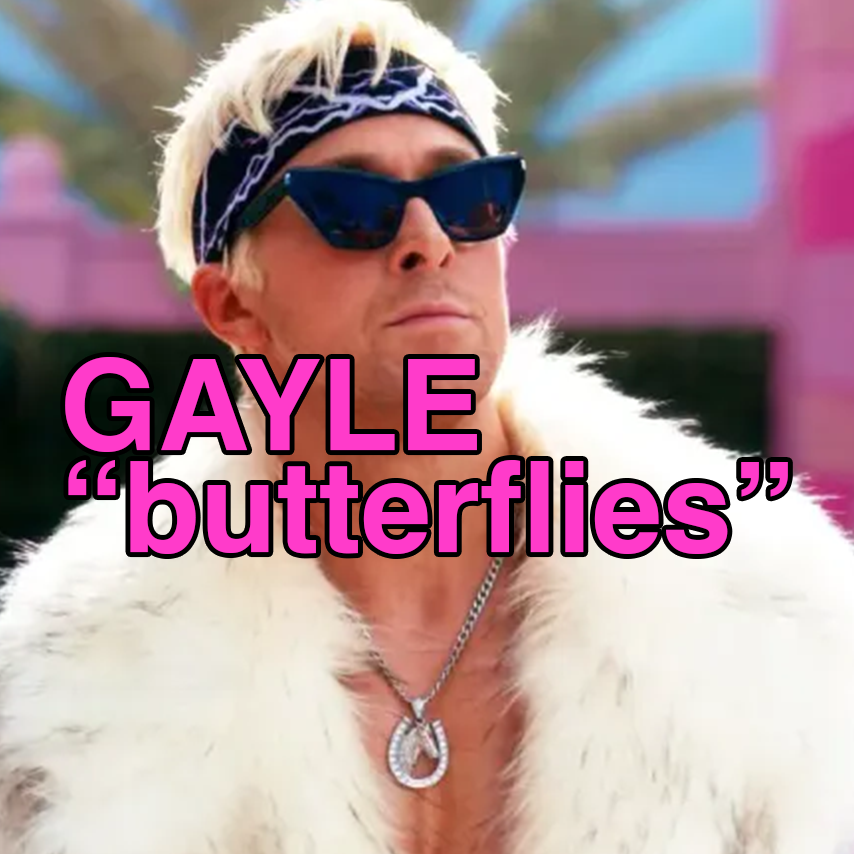 GAYLE - "butterflies" (From Barbie The Album)
I went to see Barbie last night for the second time. As an AMC Stubs A-List member, this is an activity I can justify. My first Barbie viewing was during its opening week. It was an Event. Everyone was decked out in pink, giggling, sitting in large groups, vibrating with joy. Several people started reciting the Nicole Kidman AMC speech, and everyone was laughing at that, and the energy carried through the whole movie. I left feeling very Entertained. Greta Gerwig had catered to my entertainment needs.
I mostly wanted to go for a second view to see what I missed amid the hubbub and hullabaloo. It was a quieter and more contemplative second showing, missing the mania of the first, but that was fine. I'm now more convinced than ever that Barbie is less a movie than a set of liberal ideals centered in a reticulation of pleasing aesthetics...a glowing corporate orb suspended in feminist aspic....an October 2016 of the mind......oh my god Molly shut uuuup. I'm kidding. It is a movie! It's a movie. It has sets, costumes, acting, cinematography, and most importantly for me, music.
Barbie's music I noticed a song on second viewing that I hadn't quite clocked in the first. As the Kens rudely turn Barbie's Dreamhouse into Ken's Mojo Dojo Casa House, my ears pricked up: "Is this a drum and bass cover of 'Butterfly' by Crazy Town?" Well, no. But it is a pop-punk interpolation of Butterfly by Crazy Town.......by GAYLE! GAYLE GAYLE GAYLE. I love her. I podcasted about her. Like Taylor Swift before her, she moved to Nashville as a teenager and snagged a songwriting deal. She's quite young and very ambitious. Her song "abcdefu" may have been a TikTok marketing deception success story (TLDR: she asked followers for songwriting ideas in a seemingly organic prompt, and someone who turned out to work in marketing at Atlantic Records asked her to write a breakup song using the alphabet — "abcdefu" might have seemed like a DIY + spontaneous feat to the average viewer, but it was already locked and loaded at a major label....c'est la vie!) but I don't care. I think she has potential. I wanna see how far GAYLE can GO.
So "Butterfly" is now "butterflies," which steals that delicious, sun-baked, California skater stoner riff and puts it in the service of a sassy punkish banger. I will never say no to a high energy rock song (unless it's a 'rock' cover of the Goo Goo Dolls) and the drums + GAYLE's delivery actually reminded me a bit of Shybaby's "Pizza," a song I will shamelessly plug not just because I think Shybaby is good and you should get excited for their upcoming album, but also because I happened to film and co-direct the video for "Pizza." Consider this a journalistic disclosure....hey, my blog, my rules.
Anyway what is lost from "Butterfly" in "butterflies" is that particular taurine-buzzed malevolent  Shifty Shellshock sexuality. You know: so sexy, almost evil. Which, hey, it's Barbie, no one came for that vibe, I get it. But it's supposed to be soundtracking a moment of Kenergy! Throw me a bone here.
Come my lady has turned into Come on baby; You're my butterfly / Sugar, baby has become You're my butterfly / Oh my daisy. OH MY DAISY? GAYLE. I guess when "call me maybe" is already taken, and the crazy / lazy / hazy matrix has been exhausted by Best Coast, all we get is...daisy. What about:
come on baby, come come on baby
you're my butterfly
Martin Scorsese
Just spitballing here. Anyway I still commend GAYLE for taking on the iconic "Butterfly" and bending it to her will. It's a tall order. Will they release it as a single? I hope they do. I also hope it gets a full drum and bass remix.