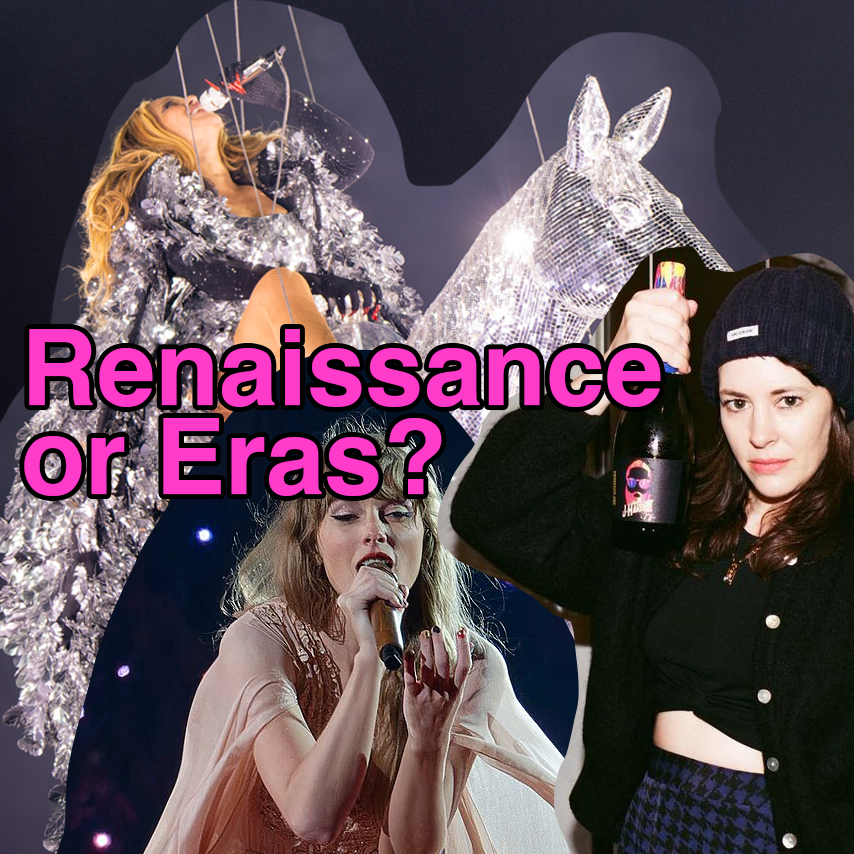 laura june kirsch is a Renaissance Woman
Summer 2023 is rapidly coming to a close, and between Taylor Swift's Eras Tour and Beyoncé's Renaissance Tour, stadiums across America have been getting a serious workout, both from those with the gumption to keep a standing ovation going for eight minutes, and those who know precisely what time to look around and have everybody on mute. I assume cleaning crews needed to conduct a full sweep-out of pink and silver sequins before the football season began. Eras and Renaissance: two strong and distinct vibes, two types of girl(ies). I wrote about my Eras tour experience for this blog already, and now I pass the baton to my friend Laura June Kirsch for the inaugural I Enjoy Music guest post, in which she shares her decision to go Renaissance over Eras, details how she identifies with Beyoncé's career and creative output, and ponders musical taste on a grand scale: "Isn't that the beauty of art and music though, that there is something for everybody?"
A quick intro for Laura: she is a photographer and writer who lives in New York, and she has been throwing down in various musical, nightlife, and even professional sports scenes for a long time. In 2021 she published a book called Romantic Lowlife Fantasies: Emerging Adults In The Age Of Hope that compiles her photos from places like the Village Voice and House of Vans and filters them through a theme of millennials having fun and figuring themselves out during the half-party, half-recession of the Obama years. She knows how to make people look absurdly good in pictures, and in a nutty turn of events, my husband and I figured out that she — years before we ever met her — had taken a picture of us at a rock show when we were first dating. Life is a highway and also a movie. Anyway, handing the blog off to Laura in 3, 2, 1...
---
A Guest Blog from Laura June Kirsch
There are few regrets I have in life, especially when it comes to seeing live music. As a woman who has made this a priority, I've been very lucky to attend almost every show I really wanted to.  There are only two instances of concerts I later regretted not making more of an effort to attend. The first one was At The Drive In at a bowling alley on Long Island in summer 2000. I was 15 at the time and didn't have an easy ride and gave up pretty quickly. At The Drive In broke up shortly after, and my next opportunity to see them wasn't until twelve years later.
My other big fumble was missing Beyoncé's legendary 2018 Coachella performance, which, judging from the documentary, appears to be one of the greatest live performances of all time. Due to the limitations of festival stages production-wise, they generally aren't the best opportunity to see a headlining act — the only other time I had seen Beyoncé live was headlining Made In America Festival in 2013 (which was great — however felt like a festival set). I had been offered a Coachella pass last minute and even had an aunt who lives in La Quinta to stay with, but I had a mild obligation (and I mean mild) and decided to skip it — because I mean, based off seeing many festival headliners, how good could it possibly be? (Insanely good).
After that, I vowed to not miss the next Beyoncé tour.
A few months ago when Molly asked me to write about music for her new blog, I kind of froze. I've felt a bit out of touch with my music game lately, not on top of things as I once was.  I've been listening to mostly bigger albums the last few years: the Kendricks, Beyoncés, Olivia Rodrigos of the world — ok ok, and the Turnstiles, Wet Legs, Beabadoobees and Alvvayses too.
One thing that has been on my mind a LOT this summer is the sensation around the Taylor Swift and Beyoncé tours.
I was hanging with a friend and her coworkers a couple of weeks ago. She mentioned how the media was pitting Taylor Swift fans against Beyonce fans. She didn't understand this. Why can't you like both? There shouldn't be a divide! The group was in agreement, excitedly discussing the topic. I didn't say anything.
While I completely agree with her that, of course, people can love many artists (I know I do), I also agree with the journalists that there are (mostly) two types of people in this world: those who go to Taylor Swift, and those who go to Beyoncé. Of course, there are a few lucky bastards who have loads of money and can go to both; however, the reality for most of us is barely having a budget for ONE show. I, to the surprise of nobody who knows me, went to Beyoncé — no contest.

And again, I do like Taylor Swift (despite her writing a song about New York that seemed like a leftover marketing idea from Giuliani's 90s Disneyfication of the city). When it comes to Beyonce though, I love Beyonce.
Beyonce is right on the cusp of Gen X and I grew up with her through her music.  Destiny's Child's self-titled debut album dropped in 1998, right smack in the middle of middle school, with "No, No, No" being a staple at every Bar/Bat mitzvah on south shore Long Island (your main social life at that time). Just thinking about that record brings me back to those catering hall dancefloors, grinding on your boyfriend of the week while drinking a Shirley Temple and eating your 12th mini hot dog.
Her songs are a soundtrack to my own coming of age, a constant in each new chapter of life. She holds a nostalgia factor in the era before smartphones, social media and the pre-tech world as we knew it but will never once be.
But back to the border Gen X part, as an older millennial who spent a lot of time with the generation prior to mine growing up, Beyonce doesn't quite fit into the millennial stereotypes. I mean she's timeless. She's always been graceful, mature, a powerful presence — she's an enigma. She was all things late 90's and early aughts: TRL, baggy jeans and Tommy Hilfiger crop tops, Jay-Z.  She's exuded confidence and encouraged women to do so her entire career. She is queen energy.
To me, Taylor Swift is often a walking embodiment of typical white American female millennial trends. She's fall as a hobby, she's Lorelai Gilmore, she's pumpkin spice, she is cat lady, she's impossibly thin and blonde sorority sisters at a bachelorette in Nashville, she's that handwritten scripty font that took over all event signage, she's probably a Harry Potter fan. Don't get me wrong, she truly seems like a kind and lovely person. However, despite being a white lady myself, these are signifiers that I don't identify with (ok I did watch and  love Gilmore Girls in the pandemic #JessMariano), both in my generation and as a woman in general, things that make me feel alienated from the pack (as a fellow half Jewish gal from Long Island, Amy Schumer is my relatable famous blonde).
There is a Pollyanna vibe to Taylor that never quite resonated with me. Her lyrics skew younger and whimsical, which is honestly part of her genius. What fans are more rabid and loyal than teenage girls? She's no fool, I assume she knows what she's doing when she makes sure her songs are easily digestible by a younger crowd.
This is meant with no shade — Swifties please don't come after me (or better yet, check out my book)! It is an honest assessment of her work through my lens. I feel a million years old when reading about her and listening to her lyrics — I can appreciate her perspective  and like the songs but can't really relate. It's an objective experience, feeling like I am listening to music made for the kind of girl I am expected to but never have been.

I do respect her as an artist and how she's handled difficult career situations — especially loving her choice to re-record her songs after being robbed of her masters, which is the type of thing that happens to artists far more frequently than it should. I personally had dealt with a situation where my artwork was being held hostage by some terrible people and business partners — an exhausting experience no artist should have to live through — she is a badass for fighting back with grace and wit, and coming out on top.
One thing about her new album Midnights (and her music in general) is that Taylor Swift is constantly making references to…Taylor Swift. There is a lot of inside baseball happening in the Swiftie universe, it's too much work to keep up with for a casual fan like myself.
Beyonce, on the other hand, put out a genre-spanning banger album last year. With Renaissance, she sampled artists like Big Freedia and Donna Summer, collaborated with the legend Grace Jones, and fully embraced disco and house music, which I love. She made a record that was palatable for deeper and more eclectic music fans, unafraid to go down a completely different path.
Her stellar album artwork is iconic, showcases her nude, gorgeous figure, alluding to the painting of Lady Godiva, plus that historic Studio 54 night when Bianca Jagger rode in on a horse on her birthday. No stranger to artistic references, she paid homage to Pipilotti Rist with her Lemonade visual album, and has collaborated with artists like Awol Erizku. As an art and music history fan, these are the kind of touches that do it for me.
Renaissance is a grown and sexy album for her grown and sexy fans, and the Renaissance tour did not disappoint. The visuals, costumes, dancing — all of it was incredible. Beyonce rode (and gyrated on) a silver sparkly horse that flies through the sky, not to mention a silver tank that drove around the stage. The creative direction and artistry on this album and tour are perfection — she is a living work of art herself.
While I truly am not trying to nitpick on Taylor Swift — to be honest I feel bad criticizing her at all because women artists have suffered enough — I still agree with the journalists that there is a personality divide between those who hardcore identify with Beyonce this summer and those who identify with Taylor Swift. Isn't that the beauty of art and music though, that there is something for everybody? For every older millennial like myself who still remembers the romance of calling people on a landline and has a deep love of '90s R&B, there is another type of millennial person who needs the voice of Taylor Swift to get through their heartaches and breakups. It's all relevant and it's all important and we need more blockbuster women artists across the board — because the reality is there should be way more options for us at their level.
My prediction is that Taylor Swift will headline Coachella in 2024. You can best believe I will do everything in my power to be there — the perfect place for an older millennial casual fan to see her — because I do in fact really like a lot of her work and she is a hugely important artist in music history.
And also, I don't make the same mistake twice (ok, that's a complete lie, nobody is perfect- right?!)
---
Buy Laura June Kirsch's amazing book here and follow her on Instagram.