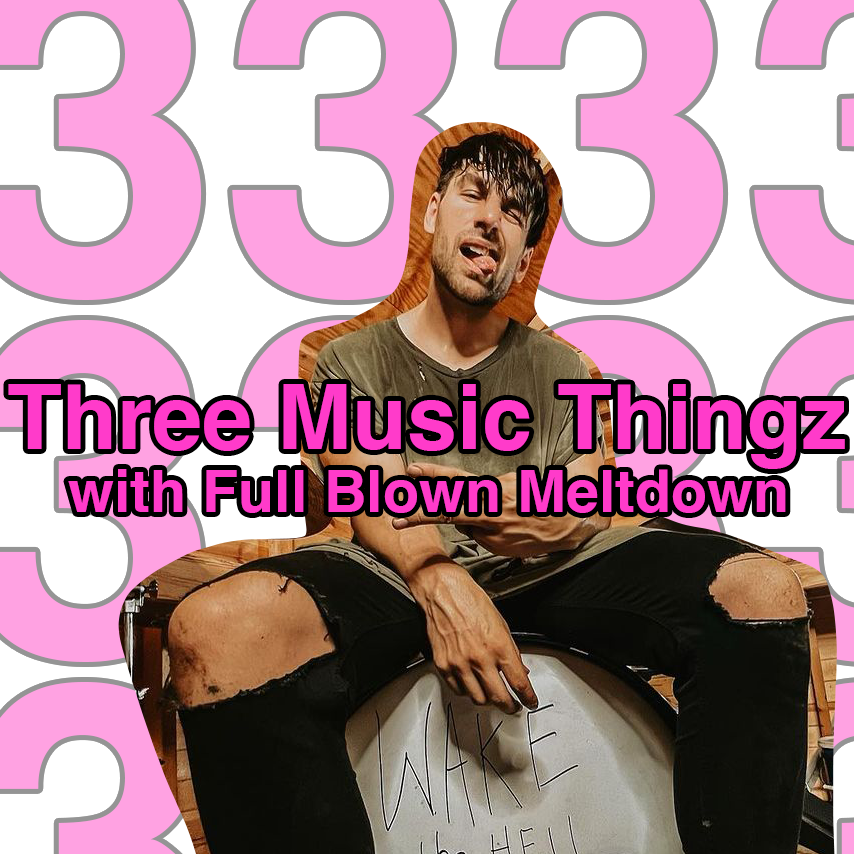 Three Music Thingz with Full Blown Meltdown
Hello, I am addicted to new blog formats. This one is very simple — think of it as like an insert in a print magazine that will help you learn just a little bit more about a cool musical artist than you did before you read the insert. With Three Music Thingz, I'm asking musicians for three things that are essential to their musicianship and musical identity. The things could be big, could be small, could maybe not be 'things' at all 😳 And I'm calling it Three Music Thingz because since seeing Pavement, I am on a tear of pluralizing things with a Z in the manner of "Gold Soundz." Pls don't be mad at me.
First up is Will Green from Full Blown Meltdown, who I interviewed over DMs for my newsletter The Molly Zone a while ago. Full Blown Meltdown has a new album coming out on October 6th (this Friday!) called Mollify and, having listened to an advance stream, I can confirm it is a freakin blast: sooo high energy, melodic, catchy as hell and wonderfully unpredictable. Will himself described the album as "imagine Third Eye Blind and emo music had a baby, and then they met Jeff Rosenstock in a back alley and had a brawl." Doesn't that sound like something you might like?
Here are three thingz that Will thinks are crucial to the Full Blown Meltdown project, in Will's own words:
1. His wife
"I don't know what I would do without my wife being so supportive. She loves me unconditionally and is the hardest worker I've ever met. We travel together on the road for work and live in a new state every 2-3 months because she's a travel nurse and she truly is my driving force to constantly improve in everything I do in life."
2. His dog
"My dog Cokie is my absolute best little buddy. She wraps around me like a blanket while I write music every day and is the most loving animal in the world both in the good times and the bad. I've never met another animal that I've loved even a millionth of a percent as much."
3. His dad
"Last but not least, my late dad. His sudden passing away destroyed me a few years back and I never wanted to pick up an instrument again, but I knew that he taught me to ALWAYS chase the things I love, and how disappointed he would be that I had given up on everything without him. Years went by after his passing before I started FBM, and without the thought of him being let down that I hung it up, I don't know if FBM would have ever happened. He showed me what good music was, and I truly didn't deserve such a great role model growing up. I still appreciate every minute that we had together, and love that he instilled in me the ideal of finding the good in everyone I meet."
---
Pre-save Mollify here!! Thanks for participating in Three Music Thingz, Will!