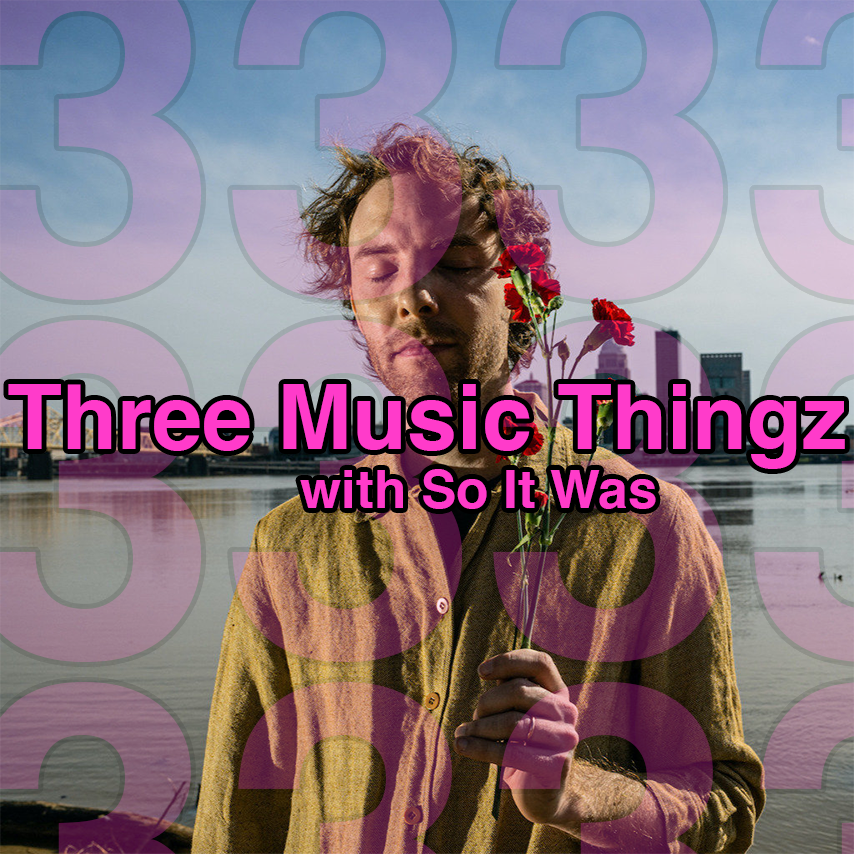 Three Music Thingz with So It Was
Welcome back to a new edition of Three Music Thingz, where I ask music people for three thingz that are essential to their music-making.
When I saw a tune called "Dance Now!" by a band from Louisville, Kentucky called So It Was waiting in my inbox, I stopped in my tracks. Anything with "dance" or an exclamation point in it will always get my attention. And as soon as I pressed play, I was glad I did. "Dance Now!" reminds me a lot of the subtly maximalist indie rock I enjoyed so much back in college, with clean guitar, heard-through-a-tin-can vocals, and pops of piano. There's also a fascinating bend in the instrumentation, like all of the instruments are either struggling to stay in tune, or maybe are just so chill that tunefulness is not their number one priority. It creates a warm, wonky vibe that I can't get enough of.
So I knew I needed to ask So It Was's Daniel Lobb about three thingz that So It Was needs to make their tunes. The band just put out their second album, Round The Mountain, and the thingz that contributed to their sound just might surprise you:
Tiny Swiss Army Knife
I was pretty devastated when TSA confiscated my tiny Swiss army knife. I don't use the knife at all really, it's all about the nail file. It's the perfect size, without the weird pointy bit like on the ones on nail clippers, and since it's metal it never wears down. I'm particular about my nails, but not like a classical player, who keeps them scary long. I need them short. For the fingerstyle songs I want the strings to sound as dead and round as possible, so I keep my nails short enough that I pluck the strings with my fingertips instead. On the song "Swimming Hole," there's even a weird finger gymnastics part that I can't do at speed unless the right corner of my right hand ring finger nail is well-filed (I don't have "good" technique), so gotta have that tiny knife. Luckily, I was able to find another one at my childhood home, since I imagine my sister and I both got one for our 8th birthdays or something, so I can keep making music 😮‍💨
2002 Toyota Sienna
I'm in love with Siennas. Need a used car? Get a Toyota Sienna with 200,000 miles on it for $4000 and you'll be fucking set for years. Mine has taken me everywhere, including to basically every show I've ever played. On tour with the college 6-piece (all of us, all our stuff inside, including a cello), across the country numerous times, straight back to Louisville from the end of this last tour in Providence (16 hours straight)...it can do anything.

Handmade Kentucky Craigslist Mbira
This one is sad because I lost it, I think at the celebratory "We finished basics!" dinner after recording in Brooklyn. It must have decided its work with me was done, and found the next person to inspire, but it truly was inspiring. Big as a record player, wacky random tuning, full of cool buzzers and percussion elements. The face of it was epoxy over a layer of swirls of glitter. I got it from a rural Kentucky woman who'd made it herself right before Covid, and it absolutely fueled me. It even had a pick-up, so I would just run it through my loop pedal and tap out little rhythms that gave me a foundation for writing. Any surprising pings and shakes on the album all came from that magic box.
Check out So It Was on their website here. Or their Instagram here. And listen to their latest album Round the Mountain here.
---
Previous Three Music Thingz:
Devon Thompson
The Answers In Between
Full Blown Meltdown