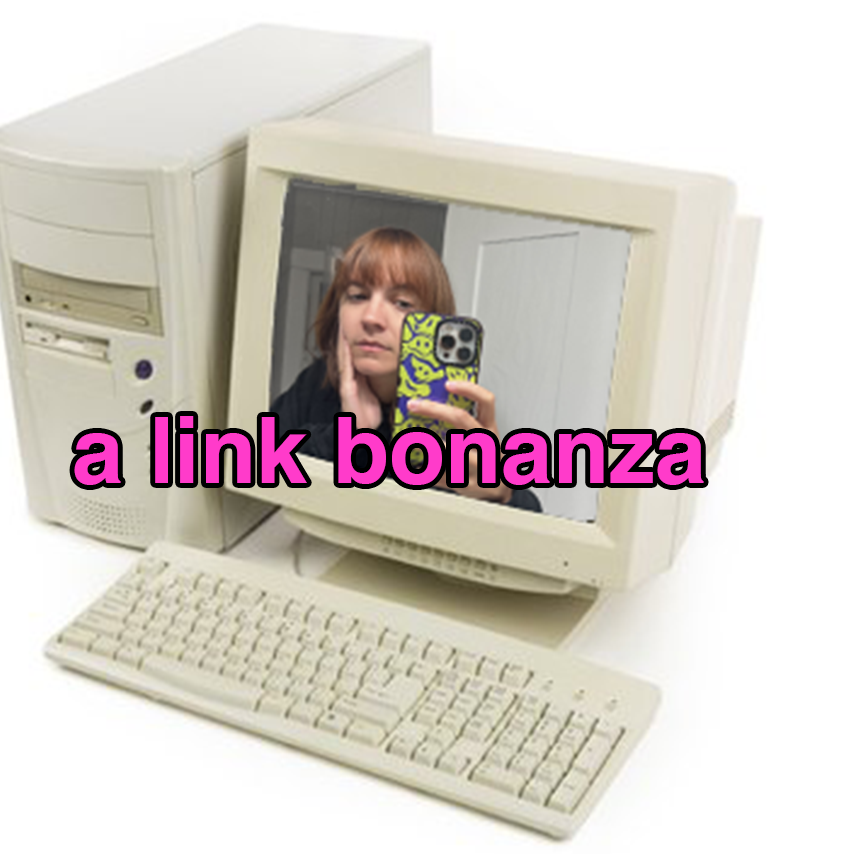 i enjoy music: big URL lifestyle
Hellooo all. "Heavy shit" has been happening on the home front that has rocked my daily schedule but utterly. But I've been preparing some sensational new blog posts for you to read, starting tomorrow. We're talking interviews with people who give a gigantic hoot about music, fresh tracks from sick artists, new blog formats, a longform essay uncovering layers upon layers of blog-style musical history ...it is all going to be mega.
In the meantime, I thought it might be nice to do a little roundup of blogs I have posted thus far, allowing folks to catch up on what they might have missed.
You might also be receiving this post as an email. Oh shit, big if true. If you signed up for the email version of this, thank you so much, that is super cool of you. I am thinking of trying out a strategy of sending a very occasional URL-laden recap email just like this one. So if that appeals to you, spread the word — here's a link that should automatically take you to a subscribe page. And if you subscribe and don't see an email, check yr spam folder.
here they are: the posts you've been waiting for
I talked to alt popstar penny bored about their innovative music marketing: printed QR code cards that link to their songs.
I saw the National and Pavement at Homecoming Fest in Cincinnati, and also ate a soft pretzel and saw some sick music at Oktoberfest Zinzinnati.
I listened to the song "Annoying Email," which is an anti-folk song about how annoying it is to send annoying emails, by Pacing feat. Sun Kin.
My friend Laura June Kirsch weighed in on the Eras Tour vs. Renaissance Tour debate.
I interviewed Nick Harley, the bassist from the Cleveland band Boring Story, about his unique lyric-writing tactics, and why Ohio produces so many good bands, and some other things.
I personal-blogged about getting blasted with 2010 party james at a Kia dealership, seeing the goth-synth-art-punk band Donzii at Zebulon, appreciating the soundtrack for The Social Network, and listening to Olivia Rodrigo's GUTS for the first time.
As part of my Music Moots™ content series, I listened to a bangin' song recommendation from Ashraf El Gamal that went from a slow jam to 156 bpm in the blink of an eye!
I listened to Squirters, the absolutely wild album by CLONING, fresh off my favorite experimental netlabel, Blorpus Editions.
I listened to the song "Mars" by dark 'n' sexy NYC-based rock band The Down & Outs.
I had an epic musical day in Los Angeles where I went to a poolside open mic in North Hollywood, a scuzzy rock fest in Long Beach, and karaoke in Los Feliz.
I blogged about my obsession with New Zealand dance music radio station George FM.
I listened to a killer album I missed from last year: the ragingly intense experimental rap Saint Anger by the group Rural Internet.
ENOUGH LINKS FOR YA?
THANKS FOR YOUR EYEBALLS. I LOVE U!
SEND ME AN EMAIL IF YOU'D LIKE: ienjoymusicblog@gmail.com